TOP STREAM 32Kbps (10KHz)


Wayne Stitt, WHB Kansas City, 1961 (08:46)
. . . Hi, this is Anita Bryant. At the tone, the perfect combination, Wayne Stitt, Music, and You . . .
[Description by Uncle Ricky]
REELRADIO is presenting this GOLDEN GIFT from Richard Fatherley (Radio's Revolution and Todd Storz) with a note that The Library Of American Broadcasting named WHB owner and Top40 Pioneer Todd Storz as one of their Giants of Broadcasting on September 15, 2004.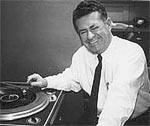 Wayne Stitt

This was apparently taken from a recording "off the board", without processing, and you'll hear some serious clipping a few times on Wayne Stitt's microphone. But what tremendous energy for a midday show from 1961! Despite the technical flaws, it's amazing to hear the Storz Top 40 format from this year. Jingles galore, including a "Daddy" parody we've not heard before. Stitt could have set L.A. or N.Y. on fire - on any format and station hot enough for his rapid patter and enthusiasm. Please note that this gentleman was already a properly-speaking middle-aged adult who wore a tie for his publicity photo — and his boss couldn't own any other stations in the market.

Original editing for this presentation: Dave Brock AudioVision Overland Park, Kansas.