TOP STREAM 64Kbps (13KHz)

Yvonne Daniels, WGCI Chicago November 25, 1988 (01:04:05)

This Exhibit 'SCOPED (16:29)

. . . I've been holding off on this until I was sure it was official . . .
[Description by Uncle Ricky]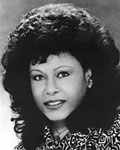 Yvonne Daniels

Here is

Yvonne Daniels

on urban-contemporary

WGCI

, Chicago, on November 25, 1988. Yvonne Daniels was an African-American broadcast pioneer and known as "The First Lady of Chicago Radio". She was the first female disc-jockey at

WLS

when she started there in 1973. She passed away on June 21, 1991, and was inducted into the Radio Hall of Fame in 1995.

When the music stops — it means commercials, and lots of them. This station was out of music for 6:50, played one (long) song and was out of music for another 4:30, though some of that was news with Wanda Wells. Note that 12 minutes of commercial content in an hour isn't unusual, but this station was leading the pack with long, long, commercial sets. There is reverb, but on Yvonne's mic only!