TOP STREAM 32Kbps (10Khz)


. . . From New York City, It's the Jack Spector Show for Radio Caroline! . . .

[Description by Contributor Gary Liebisch]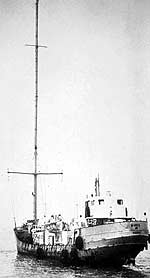 A Radio Caroline Ship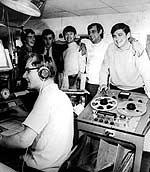 Caroline Floating Studio 1967

In 1966, British offshore

Radio Caroline

was less than 2 years old. This aircheck was given to me almost 30 years ago (source unknown). The original recording was a raw and unprocessed LINEcheck of

WMCA

's

Jack Spector

in a separate program he recorded regularly for broadcast on the Pirate radio station. The best estimate on the date of broadcast is the week of May 25, 1966, based on Jake's reference to the "Good Guy Sureshot" of that week being

The Beatles

' "Paperback Writer". No satellite delivery back then—tapes had to be delivered to the offshore ships, so it's possible that it aired much later.

On this recording, Jack borrows heavily from edited WMCA jingles, and from his former WMCA Good Guy buddy, B. Mitchel Reed, who by this time had returned to Los Angeles and KFWB. Note his use of "your leader" as well as Mitch's theme "Hand Clappin'" (at the :30 mark and end of program).

The address given for writing is 1697 Broadway, which was NOT the address for WMCA at the time, so one must assume that Radio Caroline had its own production facility in New York, or at least a makeshift one.

Jack refers to dial position as "199 on your dial". Since it was common at the time to give dial position as wavelength, it is probable that the frequency was near 1510 kHz.

DO NOT DUPLICATE: Our licensing does not grant you the right to make a copy. Because this exhibit includes copyrighted music performances, you are not licensed to trade or sell copies of this recording.