Jungle Jay Nelson, CHUM Toronto (1965) (18:59)
The story goes that a teenage Frank Coxe called WARM in Scranton, Pa. one day in the early 50s to complain to the P.D. about the overnight guy, to which the P.D. supposedly replied "If you think you can do it better, you're welcome to give it a try!"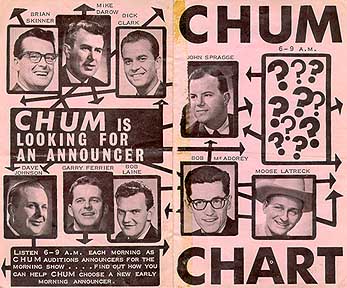 True or not, there were few who could "do it better". Or longer. Eventually, the newly renamed Jay Nelson ended up at WKBW Buffalo, doing morning drive in the early 60s. And by 1963, that led to a popular afternoon TV kids show, complete with pith helmet and stuffed gorilla--thus the "Jungle" nickname that would follow him the rest of his career.
Meanwhile, just across the border in Toronto, Al Boliska had left the CHUM morning show for arch rival CKEY, and the station announced it was launching a North America-wide search for a new A.M. driver.
The owner's daughter was a big fan of Nelson's TV gig, and suggested him for the slot. It was an opening he would fill for nearly 2 decades.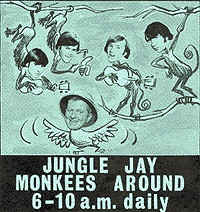 Jungle Jay was an immediate sensation in Toronto--the #1 rock jock in the city for almost 20 years. While this check doesn't showcase him at his best, all the elements are there. Strange voices, corny lines, and lots of pre-Drake Format personality radio. You'll also hear a joke on a fellow DJ that doesn't quite work out, as well as the regular "Hello Toronto" feature, which sees him nearly upstaged by a veterinarian. Not to mention Hartley Hubbs in the CHUM Chopper and Just Plain George in the control room.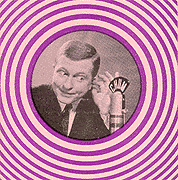 Nelson's reign in Toronto came to an end when he finally left the station in a tearful farewell in 1980. He ended up at lots of other jobs: Morning man at an easy-listening FMer, Weatherman on a local TV station, and in an ironic twist--the A.M. driver at once-arch-rival, all oldies CKEY, which in some ways, completed the circle. But the great days were over. On May 27th, 1997, CHUM-AM celebrated its 40th year as a Rock 'N Roll Radio Station. But the man who helped make so much of it happen wouldn't be there to celebrate.
Jay Nelson died much too soon, in February of 1994. He was only 57 years old.
---