TOP STREAM 32.0Kbps (16Khz)
. . . The fourties seem to be the most troubled period of time - you go to get a facelift and you can't tell it . . .

[Description by Uncle Ricky, from an article published by The Arizona Republic. Audio exhibit RECORDED and CONTRIBUTED by Jay Marks]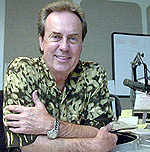 Bill Heywood
(courtesy Arizona Republic)

This short 'scoped exhibit is a composite from two days, November 28 and 29, 1977.

Bill Heywood

spent 15 years of his radio career with

KOY-AM/FM

. He was

Billboard

's Number One radio personality for three different years. Phoenix listeners remember his mellow, friendly style.

He was so well-known in the 1970s that he was among the local talent featured in "A Fire in the Sky," a 1978 TV movie about a comet racing toward Phoenix. Heywood also worked at KTAR-AM four times. He had a morning show on KFYI-AM with Heidi Foglesong that ended in 2003. In 2005, when he returned to KTAR-AM and took over the Saturday morning news show, he told The Arizona Republic newspaper, "It's a wonderful feeling to know you're still wanted, to know you still have something to offer."

Heywood was the honorary chair of the Starlight Children's Foundation Sparkling Starry Soiree fund-raiser in 2011, and was also active with the Arthritis Foundation, Crisis Nursery, Fresh Start Women's Foundation, Herberger Theater Center and Hospice of the Valley. His wife, Susan Heywood, helped homeless pets.

On January 4, 2012, Scottsdale, Arizona police found the Heywoods fatally shot in a hotel room with a suicide note on the bedroom door. News of the Heywood's death shocked friends who some say knew were having financial trouble, but never suspected they would take their own lives. The couple filed for bankruptcy in August 2009 and lost their home to foreclosure in 2010. Longtime friend and co-worker at radio station KOY, Charlie Van Dyke, said that Susan Heywood was suffering from medical issues. "This is a tragedy of the greatest proportion," Van Dyke said. "He (Bill) was one of the most fantastic people I ever knew. The Heywoods were very loving, caring people."

Do not copy, trade or sell this this recording. It was contributed to REELRADIO exclusively.