TOP STREAM 32Kbps (10Khz)
. . . the coffee pot was in the restroom and it was attacking one of our secretaries . . .
[Description by Uncle Ricky for contributor Jay Marks]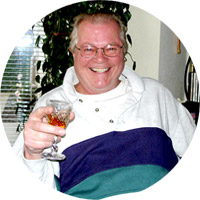 Lee Simms, 2005,
with a cup of coffee. Contributed by Lee
"for the boys".
We must wonder if the woman who was attacked by the coffee pot ever appeared with Lee Simms on this WJBK morning show from July, 1969. Whatever, even if she never appeared, we keep listening to hear if she does.
It seems that Lee Simms only does "personality radio", regardless of the music format. His passion for being himself on the radio dominates every aircheck. He is a "radio personality", and actually paid to do a SHOW on the radio. Yes, Lee was paid for this show. In July of 1969, the moon was top of mind, and how cool to have the Star Trek communicator SFX for the MoonTest!
As of December 2006, Lee is living comfortably and semi-retired in the hills above San Francisco. He is a friend to REELRADIO and gentle radio people everywhere.