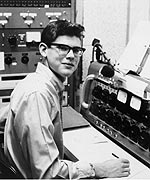 Jackson Dell Weaver, WXCO Wausau, WI., 1965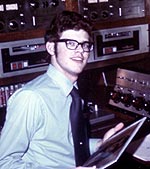 Jackson Dell Weaver, WIFC Wausau, WI., 1970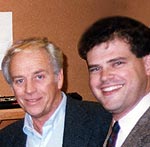 Pat O'Day, Jackson Weaver, KJR 1985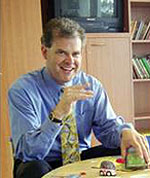 Jackson, 2004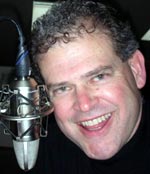 Jackson, 2006


Jackson Dell Weaver

says he still has the rocking chair he sat in each afternoon after his Little League games in Lafayette, Indiana, listening to Art Roberts, and the

WLS

Silver Dollar Survey. Jackson writes:
WLS laid the seeds for an early love of radio. Those Disc Jockeys and the BIG 89 were simply larger than life! I was a 14 year old kid delivering papers to the studios of WRIG in Wausau, Wisconsin when I was hooked. Soon, I had talked my way into an on-air job with WXCO (Home of Mr. X!!!) doing Wednesday and Saturday nights for a variety of formats.
I was a college freshman in 1969 when a few of us radicals talked the owners of beautiful-music WSAU-FM into letting us turn it Top 40. Renamed WIFC, the station rocketed to the top of the market and has stayed there since.
In the early '70s I was finishing college at the University of Utah and was jocking for top-40 KCPX. By the time I was to graduate, I looked around at everyone I knew in the radio business and none of them were over the age of 30! Furthermore, the guys driving the nice cars were selling, not on-air. So, I started selling for KCPX-FM (AOR in the early 70s), followed by a stint as General Sales Manager at KRGO (Country). In 1976 I bought a Class IV AM station and rolled out one of the first AC formats with KPRQ (The Park). But man, running a radio station that didn't cover the market was a drag! I sold the station and moved on to TV for years, first at KUTV (NBC) in sales, and then I put independent KZAR (TV16) on-the-air — before going broke with it. I look at my experience with KZAR as my MBA.
When KZAR folded in the mid-80s, Eric Rhoads (now Publisher of Radio Ink) put me in touch with Barry Ackerley and I got the best job I ever had in radio as VP/General Manager running the tattered, but still legendary KJR/950 in Seattle. We bought KLTX shortly after I got there. Pat O'Day, Lan Roberts, KJR and the world famous jingles ("KJR Seattle, Channel 95!!") were very familiar to me when I was 15 years old. Having a chance to manage KJR was great! That experience is worth a book — some other time,
Since being "retired" from KJR in 1990, I helped Eric Rhoads launch Radio Ink magazine, but I couldn't stand living in Florida. So, I came back to Seattle and kicked around doing all kinds of things until the Internet hit. I started seattleinsider.com, launched a VC-funded Internet company, had an Internet real estate marketing company, and as of 2007, I am CEO of eTAGZ, Inc.
I truly miss radio, but I have five kids and a fabulous family who NEVER heard even one of my air checks, well, maybe — until now.