TOP STREAM 32Kbps (13Khz)

This Exhibit 'SCOPED (13:59)
. . . it's all white meat, too . . .
[Description by Contributor Jeff March]
This aircheck captures Tony Cox at the height of his popularity in Sacramento, during his second stint in town. Tony had made his debut on the Sacramento airwaves on KROY (AM) in 1977, after he broke into radio in Yuba City (a town about 50 miles north of Sacramento) straight out of high school. Less than a year after starting on KROY, Tony got the call to move on to WEFM in Chicago -- a remarkably rapid ascent to the nation's number two radio market. But he returned in 1979 to Sacramento, where he retained strong name recognition. It was as if he never missed a beat.
Although Tony was in the studio when this aircheck was recorded, he frequently did his show from locations throughout town. Determined since his teenage years to help disadvantaged people, he decided to use his popularity as a means to raise funds for humanitarian organizations, including the Muscular Dystrophy Association, the Cerebral Palsy association and others. He regularly elicited enthusiastic philanthropic donations from his listeners, demonstrating that young fans of rock music had heart and empathy for others. Here are some excerpts from an article I wrote about Tony for the October 1979 edition of Sacramento Magazine: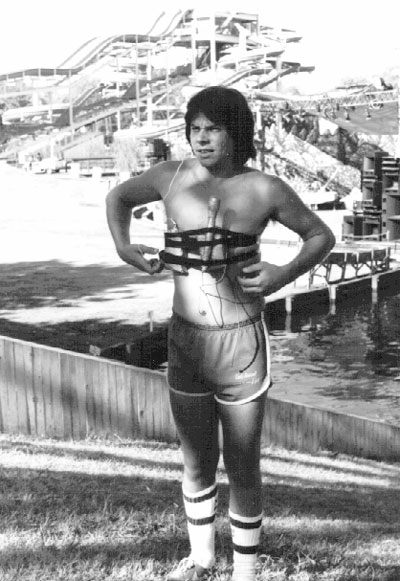 Tony Cox, preparing to be Cox In The Water for a KROY-FM live broadcast from the giant waterslide at Cal Expo, 1981.
Flagpole sitting is far from new. But it's a guaranteed crowd pleaser. And as long as it held the promise of generating donations for the Muscular Dystrophy Association, Cox was all for it. So up he went. Then there was the time he volunteered to staff the Cancer Society's dunking booth for an entire weekend's run at a local fair. Chilly weather notwithstanding, Cox submitted himself to 1,100 dunkings -- only to catch pneumonia. And just a few months ago, Cox agreed to be 'jailed' for three days in a makeshift cell at Country Club Plaza [shopping center]. The catch? Broadcasting live from behind bars, he asked his KROY-FM listeners to chip in for his bail -- all of which went to the Muscular Dystrophy Association.

His involvement with charity organizations is more than just a gimmicky trademark. It is the result of a deep personal commitment that he traces back to his childhood.

"I was always interested in the way people treat disabled people for some reason," Cox says. "As a child, I can remember somebody in a wheelchair getting mocked at, and I never did understand it. That's my main motivation."

It didn't take Cox long to discover that his interest in radio could be applied toward helping people with disabilities. Right out of high school, Cox landed a radio job in Yuba City, where he came to know a group of blind kids who hung out together. They had nothing to do, nowhere to go, and that bothered Cox. He thought of the "freebies" the station got -- complimentary tickets to plays, races, shows -- that often went unused. He rounded up whatever freebies he could, and the kids loved it. And so did Cox. In no time, he started working with Easter Seals, and so it's been ever since.

His concern logically led to far more personal involvement. He now has a large circle of friends who have physical impairments. They enjoy their mutual companionship, and Cox has gained a deeper understanding of their perspective as a result.

"I recently entered a five-mile wheelchair race. I was the only person in a wheelchair who wasn't disabled. And I think everyone should do that once."
Tony moved to KSFM Woodland (Sacramento) in 1988, and then became production director at KFRC San Francisco in 1992. He later resettled in the Sacramento area, where he remains.
Tony on REELRADIO. Tony at ARRESTED.COM.

Tony Cox, KROY-FM, February 1, 1980