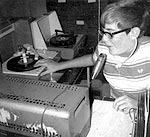 Jeff Smith, 1971, "broadcasting" from the "station" in his basement.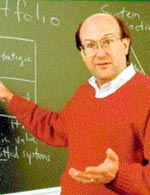 Jeff Smith at the Babcock Graduate School of Management, Wake Forest University.

Jeff Smith (reelradio at casasmith.net) writes:
"I was one of those kids who was bitten by the "radio bug" at an early age. When I was ten years old, we lived in Birmingham, Alabama, and I started to listen to WSGN ("The Big 610," owned by Southern Broadcasting Corporation). It didn't take me long to decide that the radio was where I wanted to be. By the time I was 11, I had built a radio station in my basement, from which I "broadcast" after school.
In 1970, when I was 12, we moved to Raleigh, North Carolina, where—as luck would have it—Southern Broadcasting owned another station, WKIX. As a source for broadcasting industry alumni, that mid-market station has certainly held its own. For example, John Tesh made his broadcasting debut in the WKIX newsroom when he was a college student ("This is John Tesh, WKIX 20-20 News"). Marc Mitchell, later a hit in Boston and elsewhere, also cut his teeth at WKIX.
By the time I was 14, I was known to some of the WKIX jocks as the station's biggest pest. But to others I was a young protégé who needed mentoring. And I'll forever be indebted to the guys who took me under their wings—Dale Van Horn, who taught me a good bit about production, and who passed away in August, 2001; and two of the station's most impressive alumni: Steve Roddy (Kenneth Lowe, now CEO of Scripps-Howard) and my #1 mentor during those years, Rick Dees.
Both Roddy and Dees were in school at the University of North Carolina in Chapel Hill at the time, and they were also roommates for a while in a rented house. (Because he paid more rent, Roddy got the room with the window air conditioner; Dees would claw at the door and plead "air, air, please give me air.") Roddy spent hours going over airchecks with me, and Dees treated me almost as a younger brother (I was 13 or 14 at the time; Roddy and Dees were in their early 20s). Although it was strictly prohibited by station rules, Dees let me in the control room while he was on the air, and he helped me make fake airchecks in the WKIX production room. He even let me call in on the station's private line. Several times, he lent me his radio-cassette recorder so I could aircheck him from my house. Dees claimed the tapes were better when I made them, because he didn't know exactly when I would be taping and didn't get as nervous. We used that system when he submitted an aircheck to Billboard's competition in 1972. Rick won an award for outstanding air work in a mid-size market, but they listed his name in Billboard as "Rich Kees." I had the honor of writing to Claude Hall at Billboard to ask for a correction; it appeared the next week.
At the beginning of my 10th grade year, in 1972, I got my first job in radio at the "Rock of Raleigh," WRNC. Eventually, when I was a senior in high school in 1975, Steve Roddy decided I was ready to work at WKIX. I worked there on weekends and in weekday fill-in slots until 1977. By then, I was halfway through college and decided I needed to focus more on studying and some other parts of my life. Plus, I had finally reached a stark realization: despite lots of early mentoring from good people, I was not going to turn into a radio star. Luckily, shortly after kicking the on-air habit, I met Margaret, and we've been married since 1981 (now with three wonderful children). Other than a brief part-time stint in 1984 at G-105 in Durham, North Carolina, I haven't been on the air since 1977. I finished college in 1979, got an M.B.A. in 1981, and worked for IBM until 1987. Then I went back to school for a doctorate, which I got in 1990. Since then, I've been on business school faculties - at Georgetown University in Washington, DC, at the Babcock Graduate School of Management, Wake Forest University, Winston-Salem, N.C., and since 2006, Professor and Chair of the department of Decision Sciences and Management Information Systems in the Farmer School of Business at Miami University in Oxford, OH.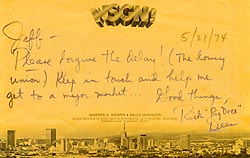 A note from Rick ("Rig") Dees, at WSGN Birmingham in 1974.
Although "doing" Top 40 radio is a distant memory for me now, I still have some friends in the business. And I still get goose bumps when I hear a great break on an old aircheck. I regret that I've lost touch with some of my early mentors. I'll never forget you guys and those magical years that meant so much to me.
The Repository thanks Jeff Smith for sharing!