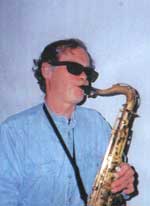 Joe Nerny and his instrument.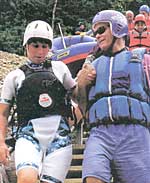 Joe didn't tell us what this is about but he's obviously doing something requiring a helmet.

Joe Nerney was born in Providence, R.I., in 1952. He writes:
"From as far back as I can remember, my folks always had a radio on. I really started paying attention to the music when American Bandstand came on - I started hearing more of the same music on the radio. The DX bug bit me and I was listening to stuff from all over the east and midwest. Of course, I wanted to become part of this whole thing, but it was hard to find positive encouragement, being a person who is blind. I knew there were many ways to overcome the obstacles. What I didn't realize was that others weren't so sure, and some were not willing. I went to Boston Conservatory and got my degree in Music Education. I still collected jingles, and listened to the radio as much as ever. Tom McMurray was the most encouraging of all my radio friends."
"In the 80's I formed a band that played Motown and R&B and went all over the country. I put my radio dream on hold. After seven years of living in cheap hotels with 6 other guys in the same room, I left the rock and roll business and moved to Seattle. I found a college station that accepted volunteers. I knew I would be challenged. I was prepared. They gave me my shot, I started doing some production in addition to my weekly show. Bellvue Community College taught a broadcasting course, after 6 weeks at their station, they asked me to teach a production and announcing course there. I worked for KRKO in Everett for about a year in 1990. I returned to New England in 1993 and worked for WKNE-FM in Keen, New Hampshire. Now, I do lots of music gigs, and write, produce and voice spots. I had lost contact with Tom, but I bet he would be proud of me."
The Repository thanks Joe Nerney for sharing!