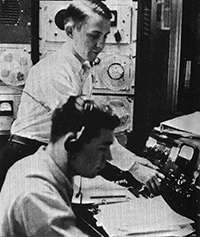 This is the earliest surviving photo of O'Neal's involvement with radio. He's pictured here in a high school yearbook ad with lifelong buddy, Lance Jones, whose father, Haskell, gave him his first paying job in broadcasting.
By the time he was four, James O'Neal knew that he wanted to be in broadcasting. He grew up in the southwest Arkansas town of Hope, and recalls as a toddler wandering into his grandmother's bedroom and hearing a man with a really great voice stating that he was speaking from Radio City in New York, and advising to "tune in tomorrow at the same time and station." The seed was planted, with O'Neal realizing that he had to find out how it was possible to hear someone so far away speaking to him.
While in the fifth grade (1958), O'Neal constructed a low-power AM "pirate" station, inviting friends to join him after school and on weekends in "playing radio." A few years later (the start of junior high school), he had even constructed a "mobile unit" for his bicycle, allowing him or his buddies to cover breaking events (such as they might be) within a couple of blocks of his "studio."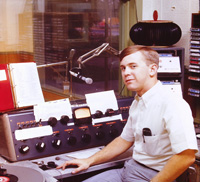 O'Neal spent his 20th summer working an evening shift at Texarkana's

KTFS

.
One of his junior high buddies turned out to be the son of the manager of the local AM station (the only radio station in the entire county). Following a Friday night sleepover party, this buddy invited his dad to see O'Neal's radio station and witness its performance. Within a few days, the friend approached O'Neal at school with the message that "Dad wants to know if you'd like to go to work at his station, KXAR." Of course, this was an offer that couldn't be resisted, and in a short time (just a few weeks shy of his 14th birthday), O'Neal found himself spinning records and reading spots at "the real deal." This employment forever silenced his pirate operation. The air work continued through high school and into college (the University of Arkansas), with O'Neal working at the likes of KFAY, KTFS, KSPR and KFAV-FM to help cover the costs of higher education, and thoroughly enjoying himself in the process.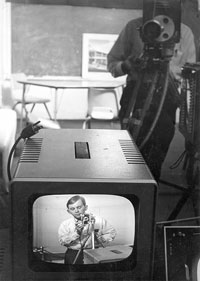 By happenstance, O'Neal found himself constructing a television studio while studying at the University of Arkansas. This experience eventually pushed him into a nearly 37-year-long career in television engineering.
As much as he liked being on the air, O'Neal was even more intrigued by the engineering side of things (witness the low-power AM rig constructed while in grade school), prompting him to eventually obtain the coveted FCC "First Phone," and handling equipment repairs for the stations he worked for. Somewhere along the way, word of this reached one of the University's colleges, and he was called in by an associate dean who asked if he would be interested in constructing a small television studio from some rather antique gear donated by a cable TV company. O'Neal succeeded in getting the "junk" to work and setting up the studio (learning a great deal about television engineering in the process). This knowledge would come in handy a couple of years later when the college town got its first TV station, an NBC-affiliated UHF operation. O'Neal was hired by the fledgling operation a few months before he graduated college, with duties ranging from running the mountaintop transmitter (1.5 megawatts ERP), setting up microwave hops, hosting interview shows, and even anchoring the station's news block for a while. (In the background, he continued jocking at an associated "good music" FM under the air name of "Edward James.")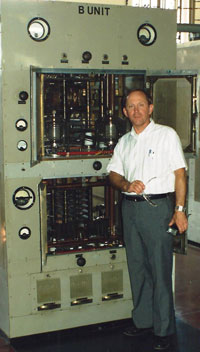 O'Neal poses with a 1930s-vintage shortwave transmitter originally used to transmit Third Reich propaganda from a site near Munich, Germany. It was "liberated" during the occupation of Germany and was still in use by the VOA at the time of his visit to the station in the late 1980s.
Television engineering eventually won out over air work, with O'Neal leaving Arkansas in 1976 to continue a nearly 37-year-long career in that field. This included more than 30 years with the television side of the Voice of America. Employment with this international broadcasting organization provided him with an opportunity for extensive foreign travel, and opened the doors for visits to radio and television facilities around the world. He officially retired from broadcasting in 2005, but immediately launched a second career in journalism which continued for almost another decade. He signed on that year as technology editor at TV Technology magazine and also began writing for a sister publication, Radio World, and other periodicals, concentrating largely on radio's colorful history and the individuals who helped to make it possible. (And along the way, he uncovered some interesting facts. That great story which a lot of us radio folks know about Reginald Fessenden inventing broadcasting on Christmas Eve 1906 cannot be substantiated.)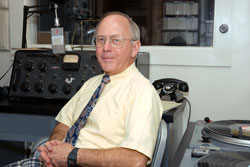 O'Neal today, as he relaxes in the control room of his replica AM radio station. The RCA 74 ribbon mic, Collins 212-B audio console and Gates turntables came from the station where he got his first radio job, KXAR.
O'Neal's lifelong love of broadcasting radio continues on the dual fronts of hardware and software (equipment and programming). He still enjoys listening to distant AM stations at night via the magic of skywave propagation, operates a ham radio station (licensed as K4XAR), researches and writes about radio and television, and serves as editor of a periodical devoted to broadcasting for one of the professional societies of which he's a life member. He serves on the boards of two radio and television-oriented museums, and has constructed a complete full-scale working replica of the first station at which he was employed (Hope, Arkansas's KXAR), with much of the gear coming from that station. The replica includes control room, studio, reception area, and a full complement of 40s/50s vintage equipment, including a one-kW Collins transmitter, AP Teletype, frequency/modulation monitoring gear, and a CONELRAD receiver (remember those?).
During his nearly 60 years of involvement in broadcasting, O'Neal has accumulated recordings of thousands of hours of programming, including a number of radio airchecks from the 1960s and 70s, and is now happy to share these with you.
The Repository thanks James O'Neal for sharing!