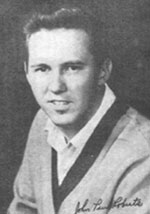 John Paul Roberts, 1968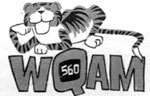 The Famous WQAM Tiger Logo

John Paul Roberts began his radio career with a tiny station in his basement while still in high school. He played Top 40 at WBLF in Bellefonte, PA. in 1963 and in 1964, in Sharon, Pennyslvania at WPIC. He became known as Jolly Rodger in 1965 at WHOT, also Top 40, in Youngstown, Ohio.
In 1966, following a short stint as an engineer at WIXY in Cleveland, he joined Country-formatted WEEP in Pittsburgh as Johnny Breit. He was the daytimer's morning man, and after he signed the station on late six times in his first six months, they moved him to afternoon drive.
Back to Top 40 in 1968, Jolly Rodger was rated #1 doing 6PM to Midnight at WIRK in West Palm Beach, Florida. After five months, Lee Sherwood called from Miami and offered him the 9PM to 1AM shift at WQAM. He was the top-rated jock known as John Paul Roberts through 1969.