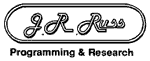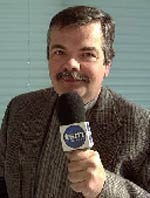 J.R. Russ, 2004.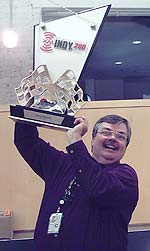 J.R. Russ goofing around with XM Indy Trophy

J.R. Russ of J.R. Russ Programming & Research has over thirty years experience as an air talent, Production Director, Program and Operations Director for radio stations in Indiana, Baltimore, Washington, D.C., Philadelphia, Buffalo N.Y. and Michigan.
J.R. was heard on a number of Top 40 and CHR-formatted stations in the '70's and '80's, including WPGC and WAVA in Washington D.C. In later years, J.R. was a news editor and reporter for the TSM (now CN8) TV news network in New Castle Delaware. He also hosted a four hour segment on The Shoppers Club of Northern Virginia, a pioneer home shopping channel serving 50,000 homes in 1989.
From 1989-1991, J.R. fed up to 30 one and two minute live ski reports to radio and TV stations throughout the east and Midwest, including WGY, KDKA, & WRVA. And, J.R. owned an independent auto dealership from 1998-2001.
Today, J.R. is a freelance Voiceover talent for a dozen TV stations and agencies. He continues his avid funding of OPEC by driving between Philadelphia and XM Radio in Washington, D.C., on a regular basis, where he works in the "Live Games" sports area. J.R. also supports the Radio and TV Museum in Bowie, MD., and is a member of the BPOE (Elks).