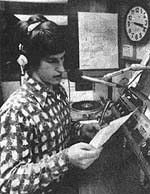 Jim Stewart, KNOX, Grand Forks, ND, 1977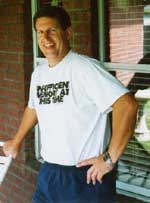 Jim Stewart 1997, Fort Worth, TX.

Jim Stewart was born and raised in North Dakota where the ground conductivity is second to none. Today, he lives near Rapid City, South Dakota where he collects NULO notices from the FCC. Who woulda thought a Ramsey F100B would carry all the way to the FCC enforcement bureau in Denver?
Jim fell in love with radio falling asleep listening to WLS or KOMA, when he got his first transistor radio at the age of 8 .
After hanging out at KNOX in Grand Forks, Jim landed a job changing the tapes for an automated FM station and that led to a few years behind the mike at KNOX playing the hits.
But after a few years of getting fired and hired (and the low pay), Jim, (depending on your viewpoint,) chickened out or wised up. Today, he works as a computer programmer slaving over a hot keyboard.
Jim would like to acknowledge Al Arneson (aka Al Davis of KSTP and U-100 fame) for the KSTP airchecks. His apologies to Al for the long overdue credit. He had a big box full of tapes and cassettes and completely forgot that Al had given him dubs of the early days of 15-KSTP.
There is no cure for the radio bug and Jim wants to know: do you need a weekend jock?