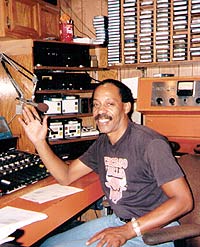 Leo Knott

Leo Knott was a Chicago native who majored in Radio-TV at Southern Illinois University at Carbondale, Illinois. Chicago radio (WLS, WVON, WCFL, WJPC, WGN and others) was a big influence in his life.
At SIU, he worked for campus station WIDB and WSIU-FM. After graduation in December, 1972, Leo worked overnights and eventually afternoon drive at KOWH, Omaha, from 1973 to 1974. He was at WNOV in Milwaukee for morning drive from 1974 to 1975, KDKO Denver for morning drive and KAAT, Denver from 1976 to 1977, and in 1979, Leo joined KVOV Las Vegas to do morning drive and serve as Program Coordinator. From there, Los Angeles came calling and he's been in the L.A. market since then.
Leo went to 50,000 watt KDAY from 1979 to 1983 and did overnights, weekends and fill-in. From 1983 to 1984, he served in audio operations at All News KFWB, and from 1984-1985, audio operations at KABC/KLOS, plus weekends and fill-ins at KJLH. From 1989 until 2009, Leo worked at KACE, KGFJ, KRLA and KTYM as an announcer or audio engineer.
Leo Knott passed away in December, 2010.
The Repository thanks Leo Knott for sharing!