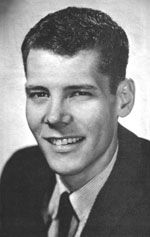 Lee Poole, KTKT, 1966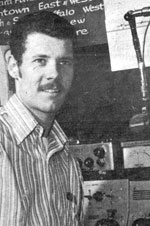 Lee Poole, WYSL, 1971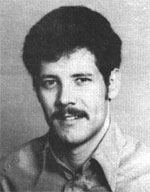 Lee Poole, KRLD, 1973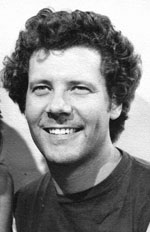 Lee Poole, KBLU, 1984

Ernest "Lee" Poole was born in Phoenix, Arizona in 1946. His family moved to Yuma and he became interested in radio in 1960. At the age of 14, he met a DJ from KBLU radio who helped him get a job "cleaning up" at KBLU Radio and TV. Before he graduated High School in 1964, Lee was working as a master control operator at the TV station. After graduation, he attended Bill Ogden's Operational Engineering School in Burbank, CA. where he studied to earn his First Class Radiotelephone license.
Following service in the National Guard, Lee moved to Tucson in 1966 where Dan Gates hired him at KTKT/Color Channel 99. One night Lee was recording a Public Service Announcement for the local U.S. Army recruiter, and he did it in a Wolfman Jack voice, calling himself Johnny Rabbit. KTKT liked it, and asked him to be Johnny Rabbit full-time from midnight to 6.
It wasn't long before Lee got an offer from Don Barrett to come to Dallas and audtion for KLIF. They told him he couldn't be Johnny Rabbit there (they already had a "Rabbitt") so he was hired as "Rufus Coyote" and stayed there for about 14 months. Unfortunately, his act scared owner Gordon McLendon's girlfriend, and when they told him he could stay only if he worked overnights as Lee Poole, he returned to Tucson and KTKT in 1967. He did return to KLIF in late 1968 for about 9 months, and was offered an opportunity to move to WYSL and WPHD-FM, the McLendon stations in Buffalo, New York. He stayed almost four years, returning to Dallas and 50,000 watt KRLD for about 6 months in 1973. "I could play anything I wanted, and I wailed all night", says Lee. "I loved working at that station."
Back in Buffalo, he also spent a year at WPHD-FM as Program Director before moving to the PD position at WGRQ-FM. He was asked to leave in 1975 after a "Dear Diary" promotion and the station was flagged in the Arbitron report. The numbers were great, but they couldn't use them. So Lee went back to Yuma, to the radio and TV station where he started as a janitor, and eventually became Chief Engineer. He spent some time in Alaska in 1982 installing a cable system, returned to KBLU in Yuma, and in 1994 went to Channel 11 as a board operator and chief engineer.
In 1996, Lee left broadcasting and got his commercial driver's license. He had always wanted to be a truck driver and really enjoyed driving around the country. In 2000, his mother became ill. He permanently parked his truck in Yuma and worked in the surveillance department for a local Indian tribe.
After years of "good Mexican food and cerveza", Lee says he gained a lot of weight. In February of 2010, he suffered a small stroke. Fortunately, he says he has fully recovered, has quit smoking, and is now retired.
The Repository thanks Ernest Lee Poole for sharing!