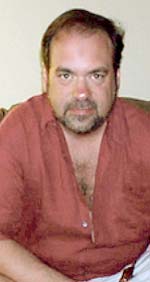 Marty Brooks, 2001

Marty Brooks has been a fan of New York radio since he discovered rock & roll around 1961. He grew up listening to B. Mitchell Reed on WMCA, Scott Muni & Dan Ingram on WABC, Murray the K on WINS and Hal Jackson almost everywhere. He also remembers Alan Freed's TV show in New York and attended many of Murray the K's holiday spectaculars at the Brooklyn Fox and similar shows hosted by the WMCA Good Guys at the Paramount.
Marty purchased his first hi-fi FM receiver in January 1966 and discovered Pete Fornatale on WFUV. In September of 1966, WOR-FM went on the air without jingles, screaming, contests or commercials between every single track. Marty became completely hooked on this new radio format while still appreciating the best of what Top-40 radio had to offer.
In 1968, he became an active member of the staff of WNEU, the college station of Northeastern University, and until 1971, he spent his summers programming music and jocking on disco amusement rides at Palisades Amusement Park. In 1971, he became a recording engineer and eventually a producer. He engineered and/or produced commercials, educational materials, industrials and a very large number of syndicated radio shows for such clients as Mobil, The Literary Guild, Playboy, Billboard and others. In 1978, he joined the educational publishing division of CBS to produce recordings and other educational media materials. By 1981, he got heavily involved in the development of some of the earliest educational software. In 1986, he joined R.R. Bowker (which eventually became a division of Reed-Elsevier), the publisher of Books In Print and other bibliographic databases, to produce a large line of CD-ROM and eventually, web-based products. Marty became Senior VP & Publisher responsible for all electronic publishing. (Bowker is a sister company of Cahners, which publishes Broadcast magazine.) In 1996, Marty left Reed to form his own consulting company, The New York Intermedia Authority, and eventually took on Bertelsmann as a client to help develop its e-commerce sites.
Marty still loves old radio because there's so little interesting to listen to on the conglomerate radio of today.

The Repository thanks Marty Brooks for sharing!