On The Move with The Monkees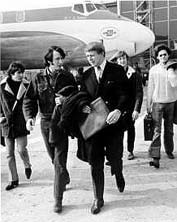 Comments on this exhibit, introduced on his birthday, July 23, 2000.

Remembrances of Robert W. Morgan are here.
[Edited description from the contributor, KHJ Program Director Ron Jacobs.]
I found a 5-inch reel from Bill Mouzis (KHJ production engineer, his handwriting.) The tape contains RWM's hourly reports from The Monkees Detroit-Cleveland Concert Tour. This was sort of an out of town roadshow before the Hollywood Bowl and regular tours. Label: "Morgan-Monkees Concert Tour Jan 14-15, 1967 (@ 3 3/4").
He never sounded better. Interviews guys individually as things progress. Talks to fans, security guards, the waiter who served them breakfast, and WKNR Detroit PD Bob Green. You hear him ONSTAGE during the second concert. It ends with Mike Nesmith and an incredible tale of a Monkee Chase (they end up in JAIL), which runs about five minutes, but was played first in segments, then in one shot on Monday's RWM show.