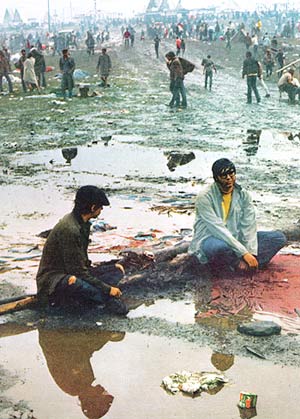 Are we having fun yet? (©2009 Time-Warner)
WARNING! PROFANITY/OBSCENITY

TOP STREAM 96Kbps (15Khz)

Remembering WOODSTOCK, 2009 (60:00)

. . . we're not kinda layin' back all day and smokin' dope . . .
Description by Uncle Ricky
MEDIA PRESERVATION FOUNDATION & REELRADIO
PRESENT
woodstock@40
featuring WOODSTOCK MINUTES
&
WOODSTOCK MOMENTS
© Neer Perfect Productions, 1989
© TM Productions, 1979
Produced by Uncle Ricky
This exclusive REELRADIO exhibit came about with the discovery of a demo tape for a six-hour 1979 TM Productions radio show called Woodstock - Ten Years Later.
Much original TM material has been saved by Media Preservation Foundation at a warehouse in Massachusetts, so I asked Tracy Carman to see if, by chance, a copy of the program had survived.
Sadly, it had not, but Tracy offered two short-form radio features instead. First, TM had produced one-minute segments from Ten Years Later in 1979 and called them Woodstock Moments. 30 of those were available. Second, in 1989 and 1994, Neer Perfect Productions had syndicated one-minute vignettes (30 seconds of which was a national sponsor) titled Woodstock Minutes. A couple dozen of those existed as well. Both features consisted primarily of commentary from performers and producers of the festival and film.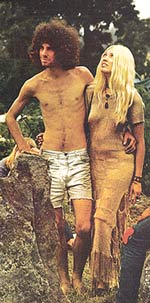 A Freak & His Old Lady
(©2009 Time-Warner)
Presenting the features as archived would have lacked lasting entertainment value, so this presentation consists of Woodstock Minutes, Moments and Music, along with a brief, partial acknowledgement of Woodstock's contribution to contemporary hit music radio.
The "Woodstock Music and Art Fair" was always a commercial venture, but many have hailed the muddy marathon as an experience unique in American popular culture — with serious political influence — and elevated it to a nearly spiritual status over the decades since. Most of the skinny, long-haired attendees then are over 60 today, and few are skinny. Many have much less hair (on their heads, anyway.)
Yet, even those coming of age in 1970 who did not attend the festival, or share the behaviors and attitudes of those that did, will agree that Woodstock left its mark (and a few bruises?) on an entire generation.