TOP STREAM 96Kbps (15Khz)

Tom Merriman Tribute Jingles, 2008 (02:32)
. . . The Maestro . . .
Description by Tracy Carman, November 14 2009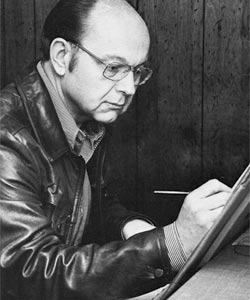 Tom Merriman
On September 13th, 2008, a country club in Dallas was filled with friends, family, former competitors, associates and a variety of others to honor Tom Merriman. It is the first (and only) time that all of these people had been gathered under one roof, and for a very good reason.... to honor "Dallas' own music man". The event was fun, and meeting many people I've only heard of by legend, spoken to on the phone, or whose names I've only seen in print was absolutely mind blowing.
One person commented "Enjoy this event. It's a once-in-a-lifetime event and you'll never see this many industry people gathered in one place at one time." He was both right and wrong. Unfortunately, tonight and tomorrow people will be gathering once again in the Dallas area, but this time to pay their final respects to Tom Merriman, who passed away last Wednesday.
You may not know him by name, but I'd bet a dozen Krispy Kremes that you've heard his music. As co-founder of TM Productions, his ID (and commercial) jingles graced the airwaves of hundreds of radio stations around the globe for decades. He also wrote scores for Vegas shows, musical arrangements for artists, music for theme parks and countless other audio productions that I find mind-boggling. He was the singing voice of the "Otto The Orkin Man" commercials and wrote "Do The Slurp" for 7-Eleven in the sixties. The list goes on and on and on......
It would be impossible for me to find a timely cross section of representative materials that Tom wrote and produced. In fact, at the tribute last year, a jukebox was presented to Tom with a selection of his "greatest hits" jam-packed on the CDs inside. So, instead of this, I'm pleased to provide two pieces of audio included on a limited edition CD presented to the attenders of last years event. "The TM Song" was produced in Los Angeles as part of a session for WCFL and pieced together to showcase TM and their radio station clients. "White Striped Pavements" is a cut that was part of TM's Where Your Friends Are package and originally sung in syndication by Country music singer Janie Frickie (the version included here was sung by Abby Holmes).
There is tons more I could add here, but I think the best I can do is say "Thanks, Tom" and offer my condolences to his wife, Jackie, and the rest of his family. May you rest in peace in jingle heaven...