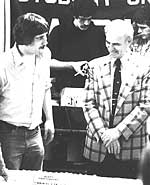 Peter George with Dr. Adrian Rondileau (President, Bridgewater St. College), 1982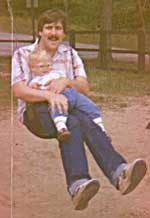 Daddy and Daughter, a few years ago.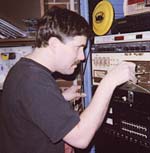 Tweaking the Optimod

Peter Q. George has been a "radio junkie" now for over 30 years. He grew up listening to Boston giants WRKO, WMEX, and WBZ, and he has a fond affection for the late, great WRKO-FM ("Arko-matic").
Peter has been involved with radio most of his life. He started his "on-air" career at WSKB-FM and Westfield State College in Westfield, Masschusetts in 1978. He transferred to WBIM-FM at Bridgewater State College in Bridgewater in 1980, where he served as News Director, Program Director, General Manager and Assistant Chief Engineer until he graduated in 1984. While working at WBIM, he became Chief Engineer of WSHL-FM at Stonehill College in North Easton, Massachusetts.
His first "professional" work experience was at WBET/WCAV-FM in Brockton. While still in college, he did the 6 to midnight weekday shift, which he described as "a blast!"
Today, Peter works fulltime in the Media Services Department at Stonehill College and is also a part-time Master Control Operator at WPBX-TV in Boston. Unable to get the "radio monkey" off his back, he always keeps a portable AM/FM radio nearby. He's a licensed radio operator with the call sign K1XRB, which he says is in honor of another of his radio favorites - Wolfman Jack on XERB.
Peter is happily married and has two children. All "radio junkies" are invited to visit Pete's "All Band" DXers webpage.
The Repository thanks Peter for sharing!