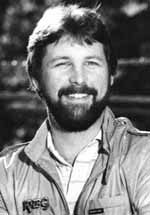 Jay Philpott at KNBQ, Seattle, 1985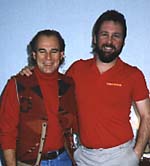 Jimmy Buffett and Jay, 1989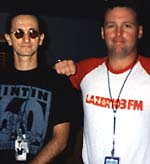 Geddy Lee of Rush and Jay, 1990

Jay Philpott (Jaydio@aol.com) was born in St. Louis, but moved to Minneapolis at age 4, when his father went to work building the first large mainframe computers at Control Data's worldwide HQ. Jay knew he wanted to be in radio at age 9 or 10, there was never any doubt in his mind -- he would listen to KDWB and WDGY constantly, day and night, and appointments with career counselors in high school were very brief.
In 1972, his father was transferred to "Silicon Valley", and he moved to the San Francisco Bay area. It was there that he was exposed to the legendary Top 40's KFRC, KYA and KLIV in San Jose. Jay was also fascinated by the emerging "progressive" formats on KSAN, KSJO and KOME. While attending Leland High School in San Jose, he worked on the school's 10-watt FM station KLEL, and managed to do some phone answering at KYA in San Francisco for night guy Gary Bryan.
Unfortunately, the old man was transferred again, and Jay was back to Minnesota in his junior year. As soon as he arrived in the Twin Cities, he got a promotion/production internship at 15 KSTP, "The Music Station" in 1977/78. In 1979, Jay's first fulltime gig was at Parks KFMX (Disco 104) in Minneapolis doing 10p-2a. He moved over to WLOL in 1980 and stayed for 4 years.
Since then, Jay has worked at KNBQ/Seattle... WQFM, WLZR, WKLH/Milwaukee... WNOR/Norfolk...
WYMG/Springfield, IL.... KSD-FM/St. Louis...WRQC and WLOL Minneapolis... KZPS/Dallas-Ft. Worth.... Clear Channel as the Operations Manager for the Charleston, South Carolina cluster... and in Milwaukee at WHQG, WQBW and WRIT... at WARH (106-5 The Arch/St. Louis, WZBA/Baltimore, WNNX/Atlanta and KQRS/Minneapolis
In 2005, Jay authored Ain't Misbehavin', Just Conclavin', a 148 page history of The Conclave Learning Conference as it celebrated its 30th anniversary. (It's no longer available but you can learn more about The Conclave at www.theconclave.com).
Jay is back home in Minneapolis/St. Paul and is the Program Director of Cumulus Media's trimulcast of WGVX, WLUP and WWWM as LOVE 105, where he also does afternoons. Thank you, Jay!