TOP STREAM 32Kbps (10Khz MONO)

This Exhibit 'SCOPED (31:13)
| | |
| --- | --- |
| UNSCOPED | 'SCOPED |
. . . The Memphis medical examiner has virtually ruled out any drug as a contributing factor, saying there was no evidence of any drug usage . . .
Description by Uncle Ricky, contributed by Peter Kanze.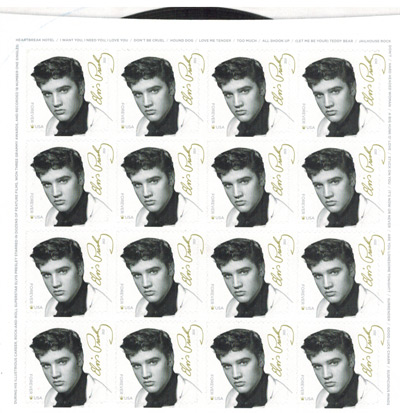 USPS ELVIS FOREVER STAMPS, RELEASED AUGUST, 2015
George Michael gets the date wrong in his first sentence, but gets it right for the rest of this "live" documentary tribute to The King Of Rock And Roll, Elvis Presley. This program was originally broadcast on August 16, 1977, from 9 to 10 PM. Apparently, it was recorded directly from the console, and we only wish that someone had been watching Michael's microphone level more carefully, because he is frequently distorted.
Father Peter Madori joins George with reflections on major Elvis life events, including his first recordings, service in the U.S. Army and several "terrible" movies.
There are also early recordings of Elvis talking about his newly-discovered fame in the '50's, and Father Madori offers a special prayer for Elvis.

COMMENTS ON GEORGE MICHAEL, WABC NY TRIBUTE TO ELVIS PRESLEY AUGUST 16, 1977
---