As Paul Leigh on X-ROK80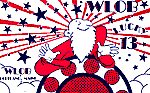 WLOB Lucky 13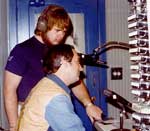 Paul Mayer with Neil Sedaka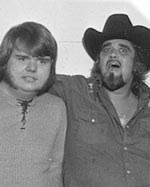 Paul Mayer
with Wolfman Jack

Paul Mayer writes:
"I didn't save tons of tapes of airchecks and jingles. Now, looking back, I wish I had!
Through the seventies I had the good fortune of working at some amazing, legendary radio stations. X-ROCK-80 (XEROK, Juarez/El Paso) was a 150,000 watt flamethrower heard everywhere west of the Mississippi. As the "morning guy" (Paul Leigh), I'd get request calls (in El Paso) from Oregon, Canada, California, North Dakota, etc. at 8 am. To do that today, it takes a satellite network (or the Internet).
WLOB Portland, Maine was one of the highest-cumed radio stations anywhere in 1973 and 1974. Then, there was KRUX, Phoenix and WAVZ, New Haven.
In 1977, when FM was really coming to life in a big way, I was doing mornings at WIVY (Y-103) in Jacksonville, the station that fed The Big Ape AM its last meal! Afterwards I did a stint at WHBQ, Memphis, where I worked with some of the best radio folks ever. After RKO in Memphis, there was KULF Houston, and in the late 80's, a short return to radio at WWMX in Baltimore.
From 1970 to 1980, I was privileged to have met and interviewed dozens of celebrities. Only a few tapes of those moments are still around. I always felt the DJ part was rather easy — but an interview — now that was quite a challenge. Instead of bringing the entire format of the radio station to a screeching halt by stopping the music to talk with a celeb, I worked at making the celebrity an element of the format. This kept the integrity and consistency of the station's music format with a unique celebrity appearance.
Fortunately, through friends, I have acquired some tapes of those memories."