Pat Maestro and Glen Campbell



Brian Hyland and Pat Maestro



Freddy Cannon and Pat Maestro


Pat Maestro was born in San Diego, California and grew up in the 1950's. His father, the late Joe Maestro, was a motion picture photographer. Every year Pat traveled to L.A. where his father filmed the Rose Parade. The experience Pat received helping his dad enabled him to listen to and record radio stations all over the country. When the Chargers AFL football team moved to San Diego they hired Pat's dad and Pat began taking Polaroid® pictures for the Chargers coaches during the games in 1962.

Pat was drafted into the army during the Vietnam war and was able to continue working in photography during his two years in the service. But Pat always had a love for broadcasting, and he knew that his career would change. In 1973 he left the Chargers and his resume went to every station in California, Arizona and Oregon. The only job offer he received was in sales at KBLU TV and radio in Yuma, Arizona. He accepted the position because they allowed him to do other jobs, including the weather on TV once a week, hosting telethons and Charlie Chan movies (which he sold) and, he got to be a disc jockey on the radio. KBLU was playing top 40 at the time, but Pat began playing from his personal collection of oldies, and he started getting a lot of requests for records of that era. This led to to a weekly show devoted to music of the 50's & 60's.

Lew Platt was working with Pat in the sales department and had a fantastic background, including promoting the first rock 'n' roll concerts and managing Alan Freed. Lew convinced the owner of KBLU to start the Oldies show, which Pat and Lew named LET THE GOODTIMES ROLL. That was October, 1974. Today, the show continues to grow. Pat includes original recordings of radio stations across the country and interviews with artists, songwriters and record producers.

Pat enjoys living in Yuma and was encouraged to share some of his airchecks by his friend, Repository contributor Shotgun Tom Kelly.

The Repository thanks Pat Maestro for sharing!

[Description author specified for each exhibit]

TOP STREAM 16.2Kbps (8 Khz)


Joey Reynolds, WKBW Buffalo NY October 1965 (15:25)
. . . Fred's really out to win, friends - he's got the oldest campaign speeches . . .
[By Uncle Ricky] This wonderful aircheck of 50KW WKBW in Buffalo, N.Y. was snatched from the ether, and it includes some low-level original static and AM crosstalk. The reception imperfections do not tarnish the quality of the content. Joey Reynolds, "The Mayor of KB Country", sounds very comfortable and relaxed here.
A quarter-hour of this program was sponsored by Adam, Meldrum and Anderson - which is now either an International Bank or an Ice Rink, depending on what you choose to read on the Internet. What it was then was a local personality on a BIG full-service Top 40, with two newscasts per hour, selling a local department store.
This is increasingly rare because so much radio is now generic and computerized (and there's Wal-Mart.) But in October of 1965, Joey Reynolds did this Radio Show on WKBW, and this is as "reel" as it gets.
---

TOP STREAM 20.7Kbps (14.5 Khz)


The Godfrey Show, KTYM Inglewood, CA. 1966 (11:50)
. . . All 45 records, just 88 cents each, at Sams in Compton . . .
[By Uncle Ricky] The Godfrey Show was heard on KTYM (1460) in Inglewood (L.A.) for at least two years every weekday from 3 to 4 PM. He was heard by many listeners in the Los Angeles area. On this aircheck from March 31, 1966, Godfrey is broadcasting live from Sam's Records and promoting the Big Dance and Show at Saint Alfonso's Hall in East Los Angeles. Godfrey's playlist is prominently R&B, but hits from The Who and Paul Revere and the Raiders are included, as well as Top 40 "crossovers" from Bobby Bland and The Temptations. It's also apparent that Godfrey paid his way. In addition to Sam's Records, Godfrey is pitching John's Menswear, The Montebello Ballroom and The Record Inn (in East Los Angeles, of course.) And Otis Redding is opening tonight at The Whiskey A-Go-Go on the Sunset Strip. He said he would be there, and we bet he was.
Don Barrett's Los Angeles Radio People reported in 1999 that Godfrey Kerr, who says his mentor was Huggie Boy, was working for City Hall Distributors, a wholesale distributor in the Los Angeles area.
---

TOP STREAM 20.7Kbps (14.5 Khz)


Casey Kasem, KRLA Los Angeles, June 15 1964 (05:58)
. . . Big Time with Casey . . .
[Description by Pat Maestro]
Here's an example of how Casey Kasem, the long-time host of American Top 40, sounded doing his great show on KRLA. You'll notice the similarity.
---

TOP STREAM 16.2Kbps (8Khz)


Rosko, KDIA Oakland, CA. 1964 (03:55)
. . . I ain't lyin', your man Rosko just doesn't dig flyin' . . .
[Description by Uncle Ricky from notes by Pat Maestro]
For a time in the early 1960s, Rosko (Bill) Mercer was heard live on KGFJ in Los Angeles, and via tape on KDIA, (1310 Khz) in Oakland, six nights a week; he spent the seventh in Oakland, live on KDIA. The weekly trip to Oakland from L.A. was undoubtedly his inspiration for the original performance you will hear on this short aircheck.
One of the all-time greatest R&B jocks, and the first black news announcer on WINS in New York, his style was real poetry, as heard on this recording when he was king of the R&B Bay Area air waves. Rosko passed away on August 1, 2000. (MORE ROSKO at REELRADIO)
---

TOP STREAM 16.2Kbps (8Khz)


Jack Vincent, KCBQ San Diego, December 25, 1965 (06:24)


. . . so we're ten degrees cooler out here at Santee . . .

[Description from notes by Pat Maestro]

Jack Vincent had the longest-running all-night radio show on KCBQ (1170 Khz) in San Diego. From 1955 through 1968, Jack's mellow tones could be heard by all those who tuned in throughout the night, from midnight until 6AM.

KCBQ's main picture window studios were located in downtown San Diego at 7th and Ash streets, but Jack Vincent broadcast his show from the transmitter site in Santee.

This aircheck is of Jack Vincent on December 25, 1965, and Jeff Crane is featured with news. The illustration is one of a series of the KCBQ personalities of the era, by an artist identified only as "Frye". Notice the resemblance to Clark Gable! It was printed on a KCBQ post card when the rate to mail it was 4 cents.

Jack Vincent passed away on January 29, 2017. He was 99.
---

TOP STREAM 32Kbps (10Khz)


Frank Thompson, KOGO San Diego, CA. June 30, 1966 (07:41)


. . . There's Checkers the clown, on roller skates again today, Checkers? . . .

[Description by contributor Pat Maestro]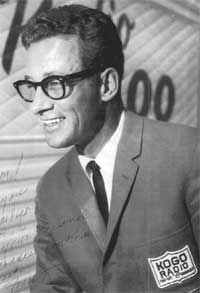 Frank Thompson

One of the great announcers in Southern California, Frank Thompson previously worked at Gordon McLendon's Mighty 690 (XEAK), prior to joining KOGO.

During the week, Frank was on the air from Broadcast City, the main studios of KOGO AM, FM and TV. On weekends, he would broadcast live, "on location", from the KOGO Mobile Studio. Frank's melodious voice and friendly style lent that extra something to all of his impromptu interviews.

Every year, you could catch Frank live from the San Diego County Fair at Del Mar, bringing all of the action of the fair to his listeners. This is a portion of Frank's broadcast recorded June 30, 1966.
---

TOP STREAM 32Kbps (8.5Khz)


This Exhibit 'SCOPED (07:19)
[Recording by Pat Maestro.]
[Contribution, description and graphics courtesy CJ Brown.]
This aircheck finds Tommy Wright doing the morning program on New Year's Eve day for 1969. KRUX is now doing a "fake Drake" format. Things start off with a couple of oldies. It is great to hear the double golden jingle.

The music highlight on this 'check has to be the KRUX exclusive of the Beatles doing "Let It Be" from the upcoming "Get Back" album. Little did Tommy or the listeners know that the LP would never get released under that name or in that form. We all know now that the LP would appear using a revised line up and a new name "Let It Be", with Phil Spector providing the finishing touches to the production. The version of the track Tommy plays would not see a legitimate release for about 33 years.
Spots include a then often-heard ad for Beneficial Finance, one for the Un-Cola 7UP and another for Bufferin. A local spot for nite club Mr. Lucky's mentions local star Sanford Clark will appear this New Year's Eve. Another interesting item found here is a PSA promoting an anti-drug film and lecture put on by the Phoenix Police. I wonder if anyone thought "Reefer Madness" when hearing this back in '69? Also make sure to hear Tom pronounce "My Belle Amie" by the Tee Set near the end of this aircheck.
---
The Pat Maestro Collection has been part of REELRADIO since May 6, 2001.



Reel Top 40 Radio Repository ©1996-2017 REELRADIO, Inc.