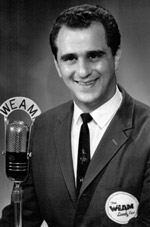 Robert C. Allen as Russ Wheeler at WEAM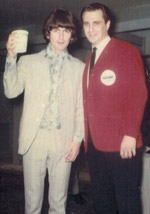 Russ Wheeler at Beatles Concert August 1966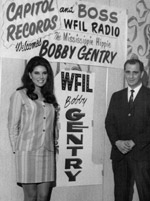 Bobby Gentry with Bob Allen at WFIL event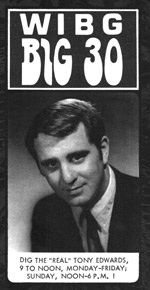 As Tony Edwards for WIBG, 1968

A native of East Providence, Rhode Island, Robert C. Allen (aka Bob Allen) liked the music he heard on WPRO, Providence and also enjoyed WBZ, Boston.
While in the Navy, Robert Alianiello (real name) developed an interest in a radio career listening to WEAM/Washington, D.C., while stationed at The National Naval Medical Center in Bethesda, Maryland. Bob's career began to take shape in 1960 at the Northeast School of Broadcasting in Boston. While in school, he was hired part time at WHIL in Medford, Massachusetts and later at WARE in Ware, Massachusetts.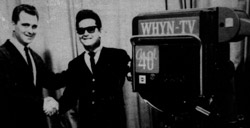 Bob Allen with Roy Orbison, 1963
In 1962, he was off to Springfield, Massachusetts and the morning radio show at WHYN. He was the original Bob Allen and also co-hosted WHYN-TV 40's Dance Party that welcomed major acts including Roy Orbison and The Ronettes. Roy once brought along an unknown, up-and-coming star named Bobby Goldsboro.
Harry Averill, GM at WEAM in Washington, D.C. beckoned in 1964. For three years, Bob, as Russ Wheeler, became a major player in the thriving music scene around the nation's capital. Among the acts he interviewed and introduced at concerts and record hops were The Rolling Stones, Brian Hyland, Bobby Hebb, The McCoys, Brenda Lee, Sam the Sham and Ronnie Dove. A shining moment was Russ Wheeler's meeting and introducing The Beatles at D.C. Stadium on August 15, 1966.
Bob left WEAM in early 1967 for the production director position at KDKA in Pittsburgh, but he missed doing full time on-air work and returned to Washington to join WPGC where he operated mid-days as the first Bob Peyton (Peyton's Place). Then, it was back to WEAM for a while as Russ Wheeler.
During the summer of 1967, he became impressed with the sound of WFIL/Famous 56 in Philadelphia. Program Director Jim Hilliard hired him for production work and swing air shifts. He resumed his Bob Allen name and enjoyed working with Boss Jocks Chuck Browning, George Michael, Jay Cook, Jim Nettleton, and Dave Parks. Bob also did the morning show for a few months while awaiting the arrival of Dr. Don Rose.
After a short stint in 1969 as Tony Edwards at WIBG in Philly, he moved on to WCAO/Baltimore for the morning show as Robert C. Allen, III, for a long stay. Another career move came in 1977 hosting the morning show for a year at Baltimore rocker WLPL as Robert C. Allen. Then, a move to WBAL, Baltimore for several years as afternoon music show host, and later a stint as overnight talk show host.
It was back to WCAO in 1985 to host mid days as R.C. Allen until a format change occurred in 1991. Ultimately, R.C. became morning drive host at Baltimore's "Oldies WWLG" until a format change.
The Repository thanks Robert C. Allen for sharing!