TOP STREAM 20.7Kbps (10 Khz)


Bill Turner, WYCL York S.C., June 1971 (6:42)
. . . I happen to know more about it than you may think . . .
Description by Uncle Ricky
[An Uncle Ricky 49th Birthday Surprise, January 8, 2000]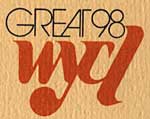 Bill Turner grew up with me in Concord, N.C. - we even lived on the same street. In 1971, he worked with me at WYCL in York, South Carolina, where I was PD. The last time I heard from Bill Turner was in the early 1980's. He was an commercial airplane pilot by then. Bill did work at a few stations in markets larger than York (unrated, population 5000!) He always sounded very comfortable and happy on the radio. He even delivered my "High Low Now Minute Measurement" and "Music Power Popularity Poll" liners successfully! In the summer of 1999, I discovered this long-forgotten recording of Bill from June of 1971.
In addition to being PD, I did all of the audio maintenance. I worked endlessly on the station's processing, often testing new schemes after midnight (during the "experimental" period) driving around in my green Camaro, listening to the station on the Delco radio, making it brighter, and louder. This aircheck is bright and loud, complete with a little "ring" around 5Khz. Damn, AM radio was fun.
You will hear Gwinsound jingles combined with PAMS pre-records and some killer "imaging" voice-over from the late Bob Chesson. Bob lived in Charlotte. We had a four-track production studio in York (about 30 minutes south of Charlotte) and Bob traded v/o for some cash and studio time.
No mention of WYCL would be complete without acknowledging the kind and progressive resident owner and GM. Curtis Sigmon somehow found the money to make sure he had the best equipped 1KW directional daytimer in the country. We had cows in the tower field, and bushels of sophisticated audio gear in the building.
A slice of a younger Uncle Ricky is included on a Carrier spot, Thom Berry is featured with a snippet of news, and the reverb was a Fairchild "Space Expander". I have a lot more of WYCL, but for my 49th birthday, I invite you to enjoy this sample of tiny-market Top 40 and my friend Bill Turner.
-Uncle Ricky
January 8, 2000