Part Two of the dreaded
Uncle Ricky 60th Birthday Issue
(Volume XV, Issue 48, January 2, 2011)
In observance of my 60th birthday on January 8, 2011, you are invited to enjoy Michael J. Justin on WYCL in York, S.C., from March, 1972.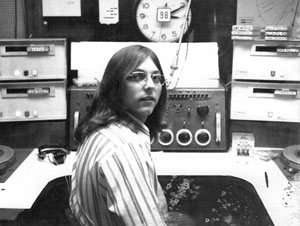 Michael J. Justin at WYCL, 1972

Mike was a very young man when he worked with me. I did mornings and was PD, so the format is MY fault, not Mike's. He was a fine employee. I remember that he had shoulder-length soft, shiny brown hair and an engaging smile. He may also have been moonlighting as a bouncer at a bar in Charlotte, but I'm not sure of that.

On this rare, 'scoped aircheck right off the WYCL processing chain from afternoon drive, we hear Mike experimenting with different pronunciations of "Chakachas", in addition to midday personality James J. Stephens with bits of news.

On my birthday, I like remembering friends from long ago who are still friends today. Michael has been a vocal supporter of REELRADIO for a few years, of course... this will undoubtedly put an end to that.

Not a bad aircheck, Michael - you couldn't have been more than 12 or 13 at the time?