TOP STREAM 32Kbps (10 Khz)

PD Presents: Pirates - The Era Of Swashbuckling Radio (49:22)
. . . Britains never, never, never shall be slaves . . .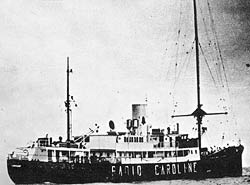 Pirates - The Era Of Swashbuckling Radio was written and produced by Tom Konard of The Aircheck Factory and narrated by Bill Young (at that time, with KILT in Houston.) This exhibit was taken directly from the original PD vinyl — no guarantee of fidelity, by the way!
Using remarkable recordings, this feature, published in five parts by Programmer's Digest, reviews the history of the "pirate" radio era from the perspective of 1973.
It's important to remember that at the place and time these offshore radio stations flourished, they were the only broadcast alternative.