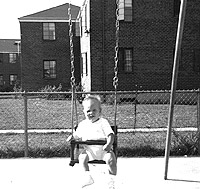 8-month old Ricky was already SWINGIN'! (September, 1951)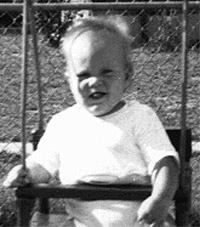 Yes, this swinger was ready for action! (September, 1951)
Part One of the dreaded
Uncle Ricky 60th Birthday Issue

(Volume XV, Issue 48, January 2, 2011)

In observance of my 60th birthday on January 8, 2011, you are invited to enjoy me, myself and I on WMAP in Monroe, N.C., just south of Charlotte, and Concord, N.C., where this recording was made at my home. I was 17, and this was my SECOND radio job, after getting fired from my first one at 16. I first went on the air in July, 1965, when I was 14, so with nearly three years experience, I should have been an experienced professional by March of 1968. I was a junior in high school. I should have amounted to something.

This exhibit opens at the end of TN News, and includes a full TN newscast toward the end. TN was the Tobacco Network, originated via FM in Raleigh, and was relayed on an FM network throughout the state. WMAP picked it up with an FM antenna on our roof and an FM tuner in the back room.

They liked me and let me do promos and intros and pretty much make my own format and play mostly my favorite records on my Saturday and Sunday Noon to Sign-Off shows. We had lots of spots and promotions and I lent them my REVERB, which is prominently featured here. I can't remember if they left it on when I wasn't there. I do remember I took it to

WIXE

for my THIRD job.

The older, full-time guys worked as salespeople, in addition to production and air duties. I think the GM is heard on one or two of the spots. Notice how many sales promotions are underway simultaneously. This is how they made local radio profitable, by creating "events" for advertisers, and of course, paying me minimum wage.

I hadn't listened to this aircheck in a few years. I heard it too many times while preparing this exhibit and I'll admit it's rather painful. I'm too old to be embarrassed by my moronic teenage performance, however, some of the MUSIC I played was quite remarkable. There's only a couple of genuine burn-outs in the hour.

Keep in mind that most of the CRC jingles were all on one cart, and often, I didn't know what was coming up. I don't know what happened at the end of the hour, I'm obviously fumbling around for something, I had a timing issue, I needed a cart I couldn't find... ACK! It sounds like the inspiration for Bob Roberts on Nine-Double-Oh radio a few years later.