WEGO
Concord, N.C.
July 25, 1967
---
BY UNCLE RICKY (RICHARD W. IRWIN)





I

n observance of my 61st birthday on January 8, 2012, I am sharing this well-preserved recording from my second gig at my first radio station. It's impossible to keep the dates straight, but I think I had already been fired once (for allegedly rigging the Radio Bingo contest) but they hired me back and this was from my second run at

WEGO

(1410Khz, 1Kw, Daytime Only) in my home town of Concord, N.C. I do know it was July 25, 1967, and I would have been 16 years of age. Hey, a lot of guys were on the radio when they were 16, but how many of them have an unscoped 90 minute aircheck?

There was no program director at WEGO. There was a GM/Owner, a Sales Manager (with the best client list), a Chief Engineer (who also did some air work), a traffic manager/receptionist, and a few sales/announcer people, full and part-time. I provided the reverb, a

Fisher Space Expander

mounted in a cabinet and resting in the bottom of the control room rack. We had TWO

Collins ATC

cartridge machines, and TWO giant 16-inch turntables with

GE-VR2

cartridges. There were also two

Ampex

601 reel machines in the rack, and a

Raytheon

compressor/limter that I always set to the fastest recovery time when I was on.

The Pack-A-Day-Polly and Comedy Spot features, along with a few promos, were provided by

Airplay International

, a service from the

William B. Tanner

company in Memphis. They sent us a couple new discs and tapes every month, "customized" for our station. Everything else was home grown at WEGO, on the shores of the infamous Buffalo Creek. Most of the local commercial announcements were voiced by the salesguys that sold them, but they let me do some goofy stuff for some of them. I don't remember ever going to a WEGO Teen Town Dance, or whatever it was, but I have a tendency to forget things that are unpleasant. And why was the day of the week so important? Most of the time, I was sure it was a Too-Much Tuesday, but at one point, I say it's a Thriving Thursday.

There's a spot for

Cheerwine

, a soft drink I haven't thought about for years. And, during the WEGO NewsCheck you'll hear my old friend "Skinny Buddy"

Gene Hinson

, reading a spot for

The Concord Kannapolis Savings & Loan Association

, one of his clients. When Gene recorded a spot, it was a one-take affair — direct to cart. The

TN

newscast leads with an item about a guy named

Romney

. I did not smoke when I was 16, but Pack-A-Day-Polly told me to light up... Did you catch the Grand Ole Opry lift? By the way, WEGO was bigger because

WAYS

was big.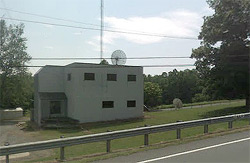 WEGO building, circa 2008.

I was told in November 2011 that the old WEGO building was being demolished. The amazing WEGO building was built in 1942 and in the 1960's, the equipment was of classic

Collins

vintage. When I worked there (1965-1967), we had an fledgling FM that mostly simulcast the AM during the day, but stayed on at night when the AM could not. That FM,

WPEG

, was named for the GM's wife, Peggy. In more recent history, it's been highly-rated in the Charlotte market with contemporary urban programming.

Portions of this recording are quite gritty, particularly at the beginning, but it sounds a bit less distorted as it goes along. This was an off-the-air capture from my

Hallicrafters

Communications Receiver at home, patched to my

Lafayette

tape recorder, running at 3.75 ips, on a 1800-foot reel of 1 mil tape. Best as I remember, I had a timer set up to start the recorder while I was on the air.


[ALL REELRADIO exhibits are copyrighted by REELRADIO, Inc. on the date of publication and are provided for real-time streaming, only. DO NOT DUPLICATE, TRADE, OR SELL THIS COPYRIGHTED RECORDING.]