TOP STREAM 32Kbps (14 Khz)

Richard Irwin, WIXE Monroe NC March 29, 1969 (42:18)
. . . Your guy R.I. on the radio . . .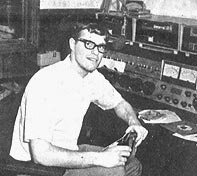 Richard Irwin (aka Uncle Ricky) in the WIXE control room, 1968. The console was a 10-channel Gates Diplomat. There were 4 ATC tape cartridge decks over the console, and 3 QRK turntables to the left.

Mom passed away in November of 2006, and I found this half-track, 3-3/4 ips tape when cleaning out her house in December, 2006. To the best of my memory, it was recorded with a timer at my home in Concord, N.C., about 30 miles north of 500-watt

WIXE

in Monroe, N.C. I used a 1940's-era

Hallicrafters

receiver and a 1960's-era

Lafayette Electronics

consumer tape deck. I do wish the fidelity on this was better. It's a bit gritty. Of course, I was excited to hear 40-something minutes of a 37-year-old radio show that I didn't even remember recording.


Play this exhibit without the music. (16:42)
I was 18 years old in March 1969, just about to graduate from Concord High School, and Wonderful WIXE was the coolest thing imaginable - less than a year old, with almost new gear, and "Brother" Dave Hedrick, the extra-cool GM and PD who first exposed me to airchecks, jingles, and the radio I can't forget.
You'll hear Gwinsound jingles, "accent" reverb, the WIXE time-tone and a great mix of 1969 southeastern Top40. Brother Dave appears on many of the spots, and you'll also hear me being a total jerk, talking over the spots. You'll hear Ray Cook on a spot, Hayne Davis on promos, and J. Frank Coley with news. A jingle or ID before, after and between EVERY program element - that was the format (somewhat like Hot Hits years later.) I was lucky to be there, a high-school kid with big dreams. Many talented people worked at WIXE, including Doug Limerick (ABC News) and Larry Dixon (WAPE, KVIL).
I just wonder if I said my name often enough...