TOP STREAM 20Kbps (10 Khz)


Composite: WGNG Rhode Island 1973 (10:47)

. . . WGNG ... went from nowhere, to number two in the market . . .

[Description by Uncle Ricky]

This composte of WGNG (550Khz) in Pawtucket (Providence) Rhode Island, appeared on Volume 2, Issue 12 of Programmer's Digest, dated December 17, 1973.

Ron Huntsman from Nashville, TN, narrated this edition of PD and introduces this composite, which features morning guy G. Michael McKay, Program Director Brad Pierce (10A-2P), Bill Silver (2-6PM), Charlie Scott (6-10PM), Chris Curtis (10P-2AM) and Dick Shannon (2-6AM).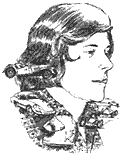 A drawing of Brad Pierce, with small cars floating around him, probably used on a WGNG record survey.

Pierce reveals that WGNG was consulted by John Rook. I was working "across the street" at WJAR in 1973. This was before I had met John and several years before he would consult KAFY in Bakersfield, CA., where I was Program Director.

One of my favorite parts in this composite is the Legal ID jingle, during which (if you listen carefully) you'll hear a female voice, nearly buried in the music, identify the city of license as "Pawtucket". The jingle group follows, singing "RHODE ISLAND." I always thought this was terribly clever.

WGNG had a good daytime signal and the station was heavily processed, as you will hear. WGNG played hit music (only). The heavy repetition of hits and a couple of jingles, and the jocks' strict adherence to "call letters first", were all elements of their success.