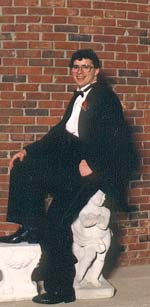 Rich Keller at his Senior Prom, 1987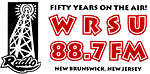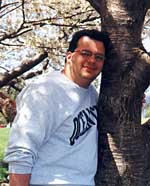 Rich Keller, 1999, Washington D.C.

Rich Keller writes:
"How could a kid, born and raised only 25 minutes from the George Washington Bridge, not be influenced by Top 40 radio in New York City? In the formative years of the late 1970's, early 1980's, my afternoons and evenings were filled with Ron Lundy, Dan Ingram and George Michael. On Sunday nights I would hide under my covers and listen to Musicradio77 on my portable radio until Howard Cossell came on at 10 p.m. I didn't know it then, but I was listening to the heart and soul of Top 40 radio.
And then, suddenly, it ended. All those personalities and music I learned to love ... gone. And just as I was growing old enough to appreciate WABC and it's place in radio history. For what seemed like forever I remained in a radio limbo: going from station to station, trying to find the magic that I lost.
The magic returned during my freshman year in high school -- 1983. Easy listening WVNJ went off the air, to be replaced by WHTZ, Z100. Back then it was my generation's equivalent to the glory days of WABC. Scott Shannon, J.R. Nelson, Anita Bonita, Janet From Another Planet, Shadoe Stevens, Jack the Wack, and Hollywood Hamifton - those are the personalities I remember from the Flamethrower. They brought the fun, and the competition, back into New York Radio. Top 40 was back!
So, as I said, how could I not be influenced to go into radio? I spent 3 of the best years of my life (before I got married, of course) at Rutgers University's WRSU-FM as in the news and community affairs departments. In my last year at college I held down reporting duties at 1450 WCTC-AM in New Brunswick, New Jersey; honing my skills for a future career in radio. Unfortunately, lack of opportunities and money prevented me from breaking into the big time, and I ended up in a career working with computers (Hey, who doesn't these days?) I'm still active in my college radio station, attending yearly on-air Alumni Reunions, and someday I'II return to the industry on a more full-time basis. In the end, I hope to be part of the next great generation in radio."
The Repository thanks Rich Keller for sharing!