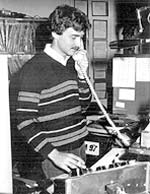 R.J. Heim at WLAN-FM, Lancaster PA., 1981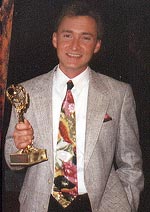 R.J. Heim with his first Emmy Award, 1993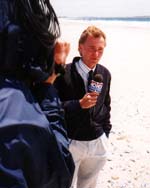 R. J. Reporting, 1994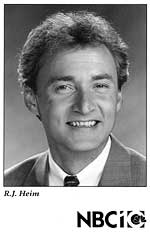 R. J. Heim Channel 10 Publicity Photo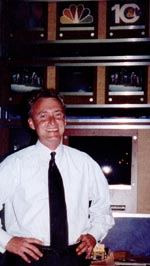 R. J. Heim, 2001

R.J. Heim writes:

To this day, I still tell anyone who asks that I loved radio more than television, but in radio you can get fired too easy, and unless you're a super-talent, there's no money to be made. Radio is a two-way intimate medium, where you're on the air for hours at a time, interacting with the audience. Television is initially a one-way process, with a delayed reaction (you get the feedback later - like when you're unshaven in the grocery store), where you work 8 to 9 hours a day for a compressed couple of minutes of air-time.
I'm currently the Weekend Meteorologist / 3 Day per Week Reporter for NBC10 (WJAR-TV - Providence, Rhode Island). I've been here since 1993 (my longest continuous broadcast experience), where I've won the Emmy Award for Outstanding Weathercaster in New England twice. There have been television stints in Harrisburg, PA (WHP-TV / 1990 - 1993), Miami (then WCIX-TV /1985 - 1990 as a part time Weekend Weather Anchor).
There was a lot of radio overlap during the Miami experience during the 1980's to make ends meet including WAIA (97A1A - Adult Contemporary, it became WGTR in a format change (97GTR - Rock), WLYF (Life - at FM 101 point 5! - Easy Listening), a summer stint at WKLG-Rock Harbor (Easy 102 - Key Largo), then WXDJ (95-7 The Breeze - Miami - Contemporary Jazz), my last Miami station. I had had enough.
Prior to that, 2 years of television for Palmer Cablevision in Naples, Florida (NewsWatch 9) as a Weatherman and Feature Reporter. There I had my first experience at world-wide exposure, after sending a feature story on the Swamp Buggy Races to CNN (it was used as the "kicker" story on Headline News for 2 days in a row - every other half hour!)
Before Florida, my first TV job was in 1982 at WTVE-Reading (TV51 NewsBeat). That newscast went belly-up after 6 months, but for being paid 2 hours a day minimum wage, and the rest of my income supplemented by the CETA program for migrant workers (ironic!), I at least had tape!
Every job before that was radio starting at WYCR-FM (98YCR - York-Hanover Pennsylvania) while still in High School in 1976. During college at Temple University in Philadelphia, I worked for WTTM-Trenton, WSSJ-Camden, and WQIQ Chester/Aston. After college, finally my first full-time radio gig at WLAN-FM in Lancaster, Pennsylvania, doing overnights. Then, I was hired away by WFEC/Harrisburg to work a new format called "Hot Hits!". Having grown up listening to stations like WFIL and WABC, this was a chance to do some high energy Top 40 radio. I couldn't pass it up, even though I was still under contract at WLAN. That's why my air name was changed to Robert Walker while I was at WFEC.
So, when people say "...it must be great being in broadcasting..." I smile back on the experiences, and wouldn't trade them for the world. Although I crave the stability of television, and thoroughly enjoy working for the number one station in Southern New England, there's still a place in my heart for radio. Enjoy the collection!

The Repository thanks R.J. Heim for sharing!