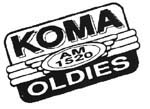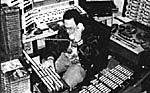 "Ricky the K" in his studio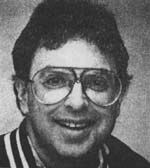 Richard Kaufman of Dallas, Texas, grew up in Livingston, N.J. listening to WMGM, WINS, WMCA and, of course, WABC. After paying his radio dues in Indiana, Georgia, and Florida, he developed "Ricky the K's Solid Gold Time Machine" for KOMA in Oklahoma.
When "Uncle Ricky" spoke with "Ricky the K" in 1996, he was in his custom radio studio complete with plate reverb and vacuum-tube compressors! He has hundreds of custom PAMS jingles, on cart, and a satellite uplink behind the studio.
Kaufman's program was delivered via satellite for a short time; He produced programs on the Internet from May 9, 1998 into 2009.
Richard's original submission included a demo of The Solid Gold Time Machine, along with a a few airchecks from his collection. At the time this Collection was built, only Real Audio 2.0 was available.