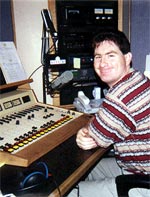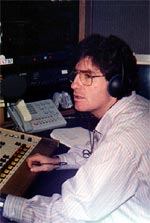 Both pictures of Rick Thomas were taken at KFIA, Carmichael (Sacramento.)

Daryl E. "Rick" Thomas grew up in in the cities of Vacaville and Fairfield, in the northern central part of California's Solano County. As with just about every other kid growing up in Solano County in the 60s and 70s, the radio station of choice was KFRC. Then Rick discovered AM broadcast DXing, picking up such distant stations as KFI, KOA Denver, WCAU Philadelphia, and scads of others across the country, including none other than WNBC, New York, with a QSL card to prove it!
By 1981, Rick's focus turned to local stations, like 1280 KJOY, Stockton, and 95.3 KUIC, Vacaville. It was around this time as well that he decided on radio as a career path. The Summer of 1984 saw Rick's entry into the world of professional radio for a year on KUIC. After a year in college on the East Coast, Rick came back out west, landing at Vallejo's KNBA in the Summer of '86. In 1987, it was back to KUIC for weekend and fill-in work. Rick's next stop was KWG-AM/KSGO-FM in Stockton, doing almost every shift imaginable on both stations over three years there. For a while, Rick was a part-time news anchor and traffic reporter for Metro Networks, Sacramento. Then it was evenings, and most recently afternoons, at KFIA.
The Repository thanks Rick Thomas for sharing!