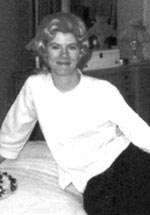 Sharon Leach, in her radio days (1964)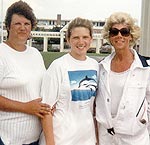 Sharon's sister Judy, Judy's daughter, and Sharon, at Virginia Beach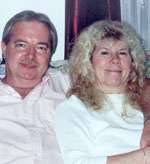 Friends Brad and Sharon, 2002

Sharon Leach was born in the same town as country singer Patsy Cline — Winchester, Virginia. She writes:
"I still live there. I am divorced with 3 grown children and currently work in healthcare. I have a nephew who works in radio in nearby West Virginia. In fact, he was the one who told me about REELRADIO. I've been visiting the site for several years and I have to say it's among my favorites.
My ties to radio go back to the early 1960s. I grew up listening to WABC out of New York and Buffalo's WKBW. Locally, I listened to WHPL in Winchester. They were on the air for nearly 21 years, from 1961 through 1982. Their Top 40 days are what I remember the most.
Thanks to my then-employer (the long defunct Diana Shops chain stores) I was able to cut radio commercials for them. That lead to other commercials (there were not many women on the air back then.)
I never did get into radio full-time myself, but over the years I did manage to develop close friendships with many of local radio DJs.
I also developed a "hobby" of taping things off the radio. At first, I did it just for the music, but later, I did it to hear both the announcer and the music. The collection grew over the years. I hope you enjoy them!"
The Repository thanks Sharon Leach for sharing!