. . . Yeah, that's fantastic! . . .
[Description by Uncle Ricky]
In observance of the 13th birthday of the REELRADIO Repository (February 12, 2009), it's a treat to view this video of a Fox Thing In the Morning on Channel 32, WFLD-TV in Chicago. Recorded on April 10, 1997, the World Wide Web was a new phenomenon, and America Online was having trouble keeping up with the growing demand for Internet connections. Multi-media on the Web was also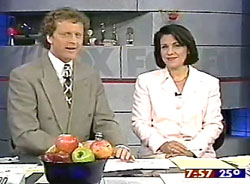 Bob Sirott and Marianne Murciano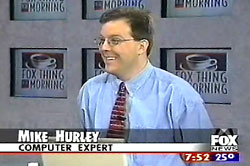 Computer Expert Mike Hurley sensational and unusual, and at only 14 months old, The Reel Top 40 Radio Repository was a whole new adventure in cutting-edge nostalgia.
Ex-WLS Top 40 jock Bob Sirott and co-host Marianne Murciano are featured along with "Computer Expert" Mike Hurley, who mistakenly calls the RealAudio player a "plugin" and demonstrates two sites featuring audio on the Web. First is long-gone AudioNet, which inappropriately received the 1998 Webby Award that should have been given to REELRADIO. For us, the best part is when Mike visits REELRADIO.COM. He quips that a "DJ hound compiled a list of virtually every DJ I've ever heard of". Woof. We've added a couple thousand exhibits since then.
Although Sirott is distracted by the "screensaver" sound effects that Hurley has installed on his bulky "portable" computer, it's obvious that he's truly delighted to hear a snippet of Dick Biondi on his third anniversary show at WLS. That moment of recognition — the instant that memories come alive when a long-lost sound is heard again — is what seduced tens of thousands of Web explorers to visit REELRADIO in the first years of our existence. We were NEWS back then, and this video is proof. And although we've received additional videos of TV news stories about the Repository, this is the earliest.
By the way, note that Hurley is using a NETSCAPE browser, as Microsoft had yet to conquer the Web. "Windows Media", mp3 and YouTube simply did not exist. However, then as in 2009, Sirott is still on Chicago TV — he's a news anchor for WMAQ-TV, Channel 5.

COMMENTS ON VIDEO or AUDIO, Bob Sirott Discovers REELRADIO, April 10, 1997
---