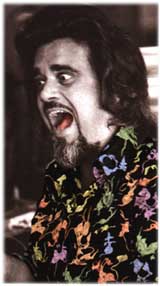 SAMPLES FROM THE CD!


RA 3.0 (2:28)


RA 3.0 (4:19)


RA 3.0 (2:16)

DCC COMPACT CLASSICS presents a new 63 minute CD featuring actual Wolfman Jack XERB airchecks from 1968-1970! In addition to a generous sampling of jingles, promos and telephone bits, this collection includes 17 rock 'n' roll greats, and full versions of wonderful R&B originals by Frankie Lymon and the Teenagers, The Marathons, The Solitaires, The Crows, The Eternals and many, many more!

REELRADIO awarded TEN of these great new compact discs to the first ten Repository Visitors who played and won our Wolfie-Quiz between August 22 and September 6, 1998. Our Winners were:
Lenny G
Ralph Travis from N.J.
Rob "Have Mercy Baby!" Shepherd from Southern California
Wolfman Jack's number one fan
Greener
Bryan "Radioboy" Hall, Des Moines, IA.
Donald McCraig
Philgone
Frankie Q.
BOSSANGELES
Excerpts and graphics from "The Legendary Wolfman Jack Howlin' On The Air" used with the written permission of DCC Compact Classics, 9301 Jordan Avenue Suite 105, Chatsworth, CA 91311.


©1998 REELRADIO.COM