TOP STREAM 32 Kbps (10 Khz)

John E Walker, WAVZ New Haven CT December 1975 (01:22:49)
. . . tempo, tempo, Walker - hit me with them eighty eights . . .

This Exhibit 'SCOPED (11:45)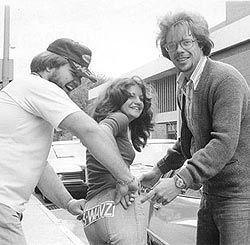 Morning Mayer Paul (left) assists a WAVZ listener with her new 13 WAVZ bumper sticker as John E Walker (right) observes.
[Picture courtesy Paul Mayer] [Description by contributor Andy Bologovsky]
A New WAVES tradition at WAVZ in New Haven was specialty programming on the weekends, like "Oldies Weekends" and this one, a "Motown Weekend". This aircheck was recorded in December, 1975 and is interesting in several ways. This was at the very end of the New Waves imaging days. As I recall, in January 1976, they switched to calling the station 13 WAVZ. The New Waves nickname had been in use since October 1972, when John Long became Program Director. With the help of consultant Paul Drew and a killer air staff, John changed the station into a hot Top40 outlet.
By the time this exhibit was recorded, Chuck Martin was PD. John E Walker had been with the station since 1974, brought in from another Kops-Monahan property, WTRY in Troy, New York. As always, he's tight, witty and fast.
The station's audio processing was amazing. Designed by Eric Small (later of Modulation Sciences), WAVZ was louder and had more punch than any other AM station on the New Haven radio dial. I remember WAVZ as having a warm, pleasant, analog sound, and awesome compression. WAVZ played everything from tape cartridges, which enabled an extremely polished presentation. For a 1,000 watt station, WAVZ sounded MAJOR league!

regarding John E Walker, WAVZ New Haven CT December 1975