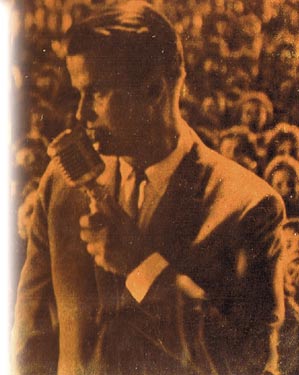 [Description by contributor Bruce Portzer]
The Dick Clark Radio Show was one of the first attempts at a nationally syndicated daily rock and roll radio program. Riding on the popularity of American Bandstand, it aired in the early 1960's. The program was produced by Mars Broadcasting of Stanford, Connecticut. From what I can tell, it was carried by a few dozen stations.
This exhibit is from a promotional tape distributed at the 1963 NAB Convention. It's narrated by Dick Clark playing the latest hits and interviewing current recording artists, but it had a unique twist. To give the show a local flavor, each station received dozens of custom inserts tailored to its specific market.
These inserts might feature Dick introducing the newsman or traffic reporter, promoting a station contest or local event, or mentioning a local place or activity. These announcements could be inserted at appropriate times, making it sound like he was doing his show locally.
This demo features sample airchecks of the show on WWDC Washington, WITH Baltimore, and WLEE Richmond. The airchecks include brief appearances by Neil Sedaka, Dion, and Paul & Paula. There are also testimonials from the WITH GM, Jake Embry and the WLEE GM, Harvey Hudson.
I wonder how much effort was actually needed for stations to plan out each show and air the custom inserts at the proper times, especially in the days before automation? Or for that matter, how much of Mr. Clark's time was needed to continually produce inserts for every station as the show grew in popularity? The program is little-remembered and seldom mentioned in any of his biographies, but nonetheless it's a fascinating bit of radio history.
Dick Clark passed away of a massive heart attack following surgery, on April 18, 2012.