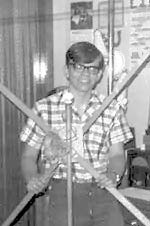 Bruce at his listening post in 1970.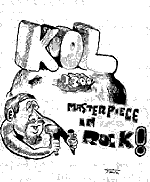 Artwork by Bruce's all-time favorite DJ, Robert O. Smith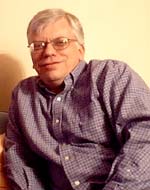 A picture of Bruce at Christmas, 2001, taken by his ten-year-old son Steven.

Bruce Portzer has lived most of his life in the Seattle area. He grew up listening to stations like KOL and KJR, Seattle's Top 40 powerhouses in the late 60's. Both stations were entertaining, intensely competitive, played great music, and had wonderful on-air talents, like Robert O. Smith, Lan Roberts, and Burl Barer, to name a few.
His radio interests began in grade school by building a one-tube receiver, which picked up a few local AM stations. When he was twelve, he discovered AM DXing and the thrill of hearing stations hundreds or thousands of miles away. Vancouver's two Top 40 stations, CFUN and CKLG, came in all day long, offering songs and DJs he couldn't otherwise hear. At night he sometimes listened to clear channel stations from other parts of the country, as well as small town stations in the Pacific Northwest and western Canada.
From there his interests grew: "During high school and college, I was a veritable radio junkie. I collected record surveys, bumper stickers, and other radio memorabilia. While traveling, I sometimes visited stations for impromptu tours, oftentimes getting into the control room and chatting with the DJs. I also swapped airchecks with friends around the US and Canada. At the time, I wasn't into building a tape archive. I would listen to the tape a time or two, record some local stations over top of it, send it back, and wait for the next one to show up. As a result, a lot of great recordings were sent to that Big Tape Archive in the Sky, but I held on to a few of them as well as some I made for myself."
Bruce was an announcer at the University of Washington's 10-watt FM station, KCMU, but that was the extent of his on-air experience. He majored in Electrical Engineering, with the idea of doing something broadcast-related after graduation, but the broadcast part never quite came together. He worked in the aerospace and two-way radio fields for a while, and then spent 18 years with a couple of consulting firms, designing communications systems for clients around the country. He's been in the wireless industry since 1996, and currently works for AT&T Wireless Services.