. . . Well, hi there, this is Hare . . .
[Description by Uncle Ricky. Contributed by George Junak.]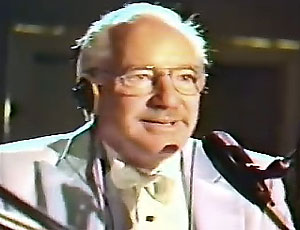 Harry Martin (Happy Hare) Charlie & Harrigan introduce Happy Hare (Harry Martin, d. January 5, 2009) at the 1990 KCBQ Reunion, broadcasting live from the Grand Ballroom at San Diego's Marriot Mission Valley. Sonny West hosts the show, and Martin's partner of seven years, Specs Howard, calls in and stumps the Hare.
KCBQ Vet Ralph James is featured with a Lambada gag before Ralph The Rapper and Harry The Hipper perform a "rap". Then, host Ken Copper welcomes Q original Don Howard. Martin, who worked with both James and Howard at KCBQ in 1955, appears with Howard at the end of this partial video of the March 1, 1990 Reunion.
Harry Martin was 64 at this Reunion, and 81 when he passed away.
Thanks to George Junak of California Aircheck. The complete two-hour 1990 KCBQ Reunion DVD is available from California Aircheck.