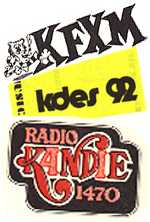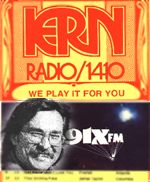 As Ralph at 91X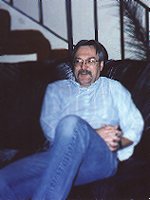 George Junak, 1996

California Aircheck's George Junak discovered Top 40 radio in 1958 when he was home sick from school as a five-year-old and stumbled across KFWB/Los Angeles on the radio. He knew immediately that was what he wanted to do when he grew up. After getting his FCC First Phone license through the broadcasting program at Pasadena City College, he landed his first radio job in 1973 doing weekends at KDES/Palm Springs as Greg Mitchell.

At one point in 1975, George was working weekends at both KDES and KFXM/San Bernardino, with a Sunday midnight-3AM shift at KFXM, then 75 miles to KDES for 6AM-3PM (babysitting public service from 6-10 and on-air 10-3PM), then back to KFXM for 7-midnight, all on Sunday.

Through the 70's, George made stops at KSOM/Ontario, KNDE/Sacramento, KERN/Bakersfield (as Greg Michaels) and KMEN/San Bernardino. In 1978 for one month, George was still at KERN as Greg Michaels but also doing a weekend shift 3 hours away at KMEN as Greg Mitchell. George made his last on-air appearance on 91X (XETRA-FM)/San Diego as "Ralph."

Before joining radio syndicator Peters Productions/San Diego in 1980 (to work in the music mastering department, and later as the Nat'l CHR PD for Peters), George founded California Aircheck. When Peters Productions was purchased by BPI in Seattle in 1987, California Aircheck became a fulltime operation, and has been ever since.

California Aircheck has been serving radio people around the world for many years with both audio and video airchecks of radio personalities. All airchecks in this collection, and thousands more, are available from California Aircheck.

The Repository thanks George for sharing!