TOP STREAM 44.1Kbps (20KHz)


KDWB Minneapolis St.Paul Composite, 1974 (23:34)
. . . The Tin Man never dies, he just fades away to his happy rusting place . . .
[Description by Bob Shannon. This exhibit first appeared as a Golden Gift on September 30, 2001]
KDWB-AM began as WCOW in 1949 and was licensed to Lake Elmo, Minnesota with a 5,000 watt daytime signal and 500 watts at night. In 1959 the call letters were changed to KDWB when the station was purchased by Crowell-Collier Broadcasting Company, owners of KFWB/Los Angeles and KEWB/San Franciso. Under the direction of National Program Director Chuck Blore and Program Director Ted Randall, the format was immediately changed to mirror its two tremendously successful California sisters stations.


KDWB Fabulous Forty Survey from May 25, 1963. (Click to enlarge)

It featured the "Seven Swingin Gentlemen" which included Hal Murray 6-10am, Art Way 10-2p, James Francis Patrick O'Neil 2-6p, Lou Riegert (Lou Waters) 6-9p, Randy Cook, 9-12 midnight and Don Duchene 12-6am. The first major air personality Changes came in in 1964 with the departure of Hal Murray, Art Way and Lou Reigert . The new lineup under program Director Sam Sherwood included Charlie Brown 6-10am, Don Duchene 10-2p, Jim O'Neil 2-6p, Bob Shannon 6-9p and Randy Cook 9-midnight.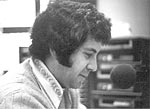 Bob Shannon, 1975

From the late fifties to the late 70's, KDWB was in a constant battle with arch rival WDGY, the Storz station for the Twin Cities. But by the time Bob Shannon returned in 1973 as Program Director and morning drive personality, KDWB was battling a second adversary, KSTP.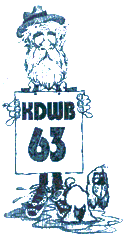 Front of KDWB Survey, 1975

A year later, Gary Stevens was named Vice President and General Manager and Buzz Bennett became Program Consultant. The mid 70's also saw the birth of KDWB-FM, and this is a composite of KDWB, circa 1975. Consultant Buzz Bennett can be heard in various segments appearing as "Captain Boogie". I (Bob Shannon) was the Program Director at this time; later, John Sebastian became PD.

Of the six jocks on the composite, four of the six ended up at KHJ Los Angeles. After departing the station in mid-1975, Charlie Fox followed me a few months later and we worked together at both KFI and KHJ.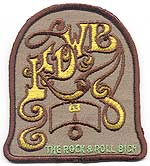 KDWB "Bich" Patch

A couple of years later, John Sebastian and True Don Bleu also ended up doing airshifts at KHJ. Sebastian also served as KHJ's P.D. Bob Savage headed for WAXC in Rochester. Unfortunately, I don't know anything about what happened to Bob Lange.

Bob Shannon begins at 00:57, Bob Savage at 09:05, Charlie Fox at 10:36, The True Don Bleu (and Captain Boogie) at 13:19, John Sebastian at 17:42, and Bob Lange at 20:30.