G2/5.0 COMPATIBLE, TOP STREAM 32Kbps (10 Khz)


This Exhibit 'SCOPED (27:26)
| | |
| --- | --- |
| UNSCOPED | 'SCOPED |
EXHIBIT DESCRIPTION BY UNCLE RICKY, CONTRIBUTED BY DAVE SMITH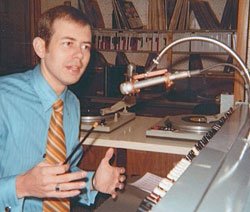 Young Joe Donovan
. . . Welcome to the Odd and Obscure part of the show . . .
Joe Donovan hosted his Oldies show at WHAS in Louisville, Kentucky, for twenty years. The majority of those years were overnight, when he was heard on the skip in over 30 states.
This exhibit presents a "DX" (distance) recording complete with noise, fading, static, phasing and all the unpredictable realities of long-distance AM radio reception. This is the way many listeners heard Joe's show. However, the music has been restored for a superior online listening experience.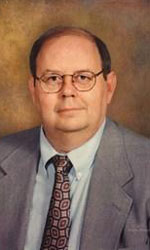 Joe Donovan
On this early morning of January 17, 1997, Joe is celebrating twenty years on the air at WHAS. This was the last year for Donovan on WHAS. The show was cancelled seven months later on August 27, 1997, when the 50 thousand watt Big Blue Blowtorch changed to a news-talk format.
For his twentieth anniversary show, Joe has played the top 20's of the 50's, 60's and 70's — but this is the hour for his Odd and Obscure feature, rich with novelty and variety. Joe was exceptionally knowledgable about the music he played.
Joe Deuth (Joe Donovan) was born on May 6, 1943 in Forreston, Illinois, but he grew up in Colorado. Before starting at WHAS in 1977, he worked at KLOV/Loveland, KCOL/Fort Collins and KOA and KIMN in Denver.
Joe Donovan passed away in Louisville on Sunday, January 19, 2014. He was 70.