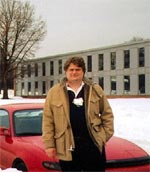 Dave Smith standing close to the NASA sign, below.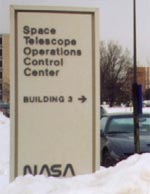 NASA Sign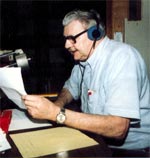 Tom Hally at WBRW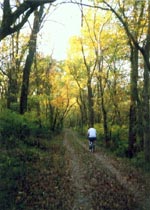 Dave, far from the Information Superhighway.

Dave Smith writes:
"I grew up in North-Central NJ listening to New York flamethrowers such as WOR, WABC, WCBS (AM&FM) and WNBC. Originally I went more for the spoken word type programs such as the story-telling of the late Jean Shepard (www.flicklives.com for airchecks) and the CBS Radio Mystery Theater. It wasn't until the late 70's that I started really getting into recording top-40 radio, which makes me a "jolly come lately", I presume.
What lit my flame was hearing "radio over the radio" rebroadcasts of the Ron Jacobs Cruisin' series played on WHAS, Louisville. It took over ten years (and trips to 6 cities) but I was fortunate to obtain original pressings of Cruisin' (55-69), an accomplishment I am still proud of. Don't let them tell you "it's impossible", which many tried to tell me.
About a year ago, I started cataloging and cleaning up my collection. It is amazing how good some things sound once the heterodynes are removed! Only after seeing another Golden Gift on REELRADIO did I realize that I had something worth sharing and that's when I wrote Uncle Ricky.
All of my experience on the commercial broadcasting side of the mic comes from watching my Stepdad, the late Tom Hally, to whom this page is dedicated. He played Big Band stuff and the accompanying photo was taken at WBRW, 1170, Bridgewater NJ, while doing his Sunday Serenade show.
Today, I am back to listening to mostly spoken word (mainly news) with some oldies thrown in, but things are not the same. Skywave no longer has that "travel to a far town" mystique, as one can often hear the same program in 5 or more cities. When I'm not listening to the radio, I spend my time as an Engineer for NASA (in computers and communications, not the rocket side) or riding my bike on the C&O Canal. Of course, I spend plenty of time with my lovely wife, Liz (who thinks this old stuff makes me nuts).
73's for now.
Dave Smith
KA2GRL"