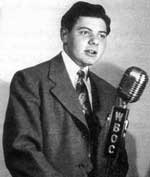 Jack Gale at WBOC, Salisbury Maryland
(1945)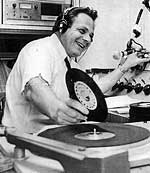 Jack Gale at WAYS, Charlotte, N.C. (1968)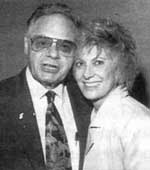 Jack Gale with Tammy Wynette, 1980's

Jack Gale's remarkable career as a radio performer, programmer, owner, voice-over talent, music publisher, manager and record producer spans more than 50 years. Born in Baltimore in 1925, Gale started in radio prior to the emergence of rock 'n' roll and the Top 40 format. He was heard on WSRS in Cleveland, WTMA in Charleston S.C., WITH in Baltimore, and WMEX in Boston before joining Stan Kaplan in 1965 at BIG WAYS in Charlotte, N.C., where the station and "Jack Gale the Morning Glory" achieved #1 ratings in 36 North and South Carolina counties.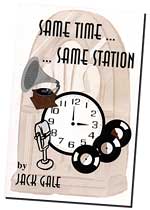 Jack Gale's book, Same Time ... Same Station is a "uniquely personal and historical narrative on the radio and record business ... it's a book about real people, real incidents, disappointments and triumphs" (Bob Mathers, WAMD, Aberdeen Maryland).
Gale won The Bill Gavin award for Program Director of the year in 1969, and Billboard's first "Disc Jockey of the Year" award in 1970. He was the first PD at WAPE in Jacksonville, FL., after it was purchased by Kaplan


Johnny Cymbal

in 1970.

Gale managed the career of teen sensation Johnny Cymbal (Mr. Bass Man) in the 60's, owned KFTW (Fredericktown, Missouri) and KGPA-FM in Pismo Beach, California in the 70's, and founded Playback Records in the 80's. He produced numerous albums in Nashville into the 1990's. Jack bought and sold two radio stations in Dothan, Alabama in 2007, and he is still producing radio commercials from his studio in Lecanto, Florida.

In his book, Same Time ... Same Station, Gale writes:
"I don't listen to the radio much anymore. I think what's happened to radio today is sad... Today, a DJ plays six records in a row, followed by six commercials, gives his name, the time, and calls it a show. I wonder what the term "show" means."
Jack Gale passed away on January 23, 2018 at the age of 92.
The Repository thanks Jack Gale for sharing!