TOP STREAM 32Kbps (10Khz)


. . . When black is the color and none is the number . . .
[Description by Uncle Ricky from notes by contributor Don Kent]
This is Hour Eleven of the First and Original History Of Rock And Roll, as broadcast by KHJ between 10 and 11PM on February 21, 1969. Our host is Robert W. Morgan.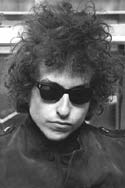 This hour is all about Bob Dylan.
This was the first "Rockumentary", produced by KHJ Program Director Ron Jacobs. Following the unprecedented success of this legendary broadcast, Jacobs left KHJ later that year. RKO made the show available to the other stations in their group, narrated by station-specific talent. When RKO was done with it, Drake-Chenault offered a re-recorded version in syndication three times between 1972 and 1982. An edited version (no jingle) of the last release, narrated by Bill Drake, was still in syndication as of 2006.
The morse code REELRADIO "copymark" included (thrice) in this exhibit is a reminder that duplication and distribution for trade or sale is illegal and inappropriate. Do not copy, do not trade, do not sell.